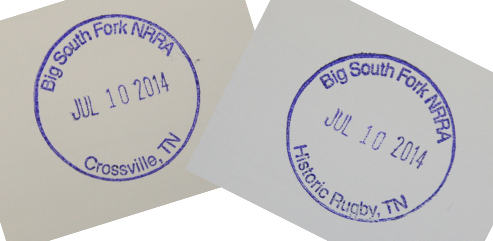 News Release Date:
July 11, 2014
Contact: Howard Duncan, 423-286-7275
Contact: Dave Carney, 423-569-9778
Big South Fork national park passport stamps designed specifically for the Historic Rugby (Tennessee) and Gateway to the Big South Fork (Crossville, Tennessee) Visitor Centers will be available starting Saturday, July 12.  These two new stamps are part of a program available at nearly all of the 401 National Park Service units.  These National Park Passport Stamps, which are free, are similar in nature to passport cancellation stamps stamped in a traveler's national passport.
The Passport to Your National Parks program was started in 1986 as a way to make visitors aware of the many opportunities available to visit all of the wonderful national park sites across the country.  The Big South Fork National River and Recreation Area also has three other park passport stamps specific to Bandy Creek (Tennessee), Blue Heron (Kentucky), and Stearns (Kentucky).
For more information, call park headquarters at (423) 569-9778.