Big South Fork Hosts High Angle Rescue Course
Date:
May 10, 2006
Contact:
Steven Seven
, 423.569.9778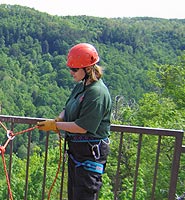 Big South Fork National River and Recreation Area recently hosted a week long training in high angle rescue for National Park Service rangers, State Park rangers and members from several local Search and Rescue teams. The course has been held at New River Gorge National River in West Virginia the past nine years. This year is the first time it has been held at Big South Fork and is one of only two national rope rescue courses offered by the National Park Service annually. 
The training was 50 hours long and occurred in the Devils Jump/Cracks In the Rocks area of the park, and was conducted almost entirely in the vertical environment on cliffs from 50 to 200 feet high. Over the course of the week, students learned a wide spectrum of skills ranging from basic knot tying to rigging and operating full raising and lowering systems
A total of 28 students and 6 instructors went through the training this year. Students and instructors came from all over the United States including such places as Yellowstone NP, Rocky Mountain NP, Grand Teton NP, Yosemite NP, U.S. Park Police from Washington, D.C., Ozark Scenic Riverways, Shenandoah NP, Delaware Water Gap NRA, Obed Wild and Scenic River, Chickamauga/Chattanooga NB, NJ State Parks, TN State Parks, and the U.S. Air Force from New Mexico.
Several folks from the local search and rescue community attended as well, including Bonnie Hancock from the Tennessee Special Response Team A, and Jerry Anderson and Tim Phillips from McCreary County Search and Rescue.
Last updated: April 14, 2015