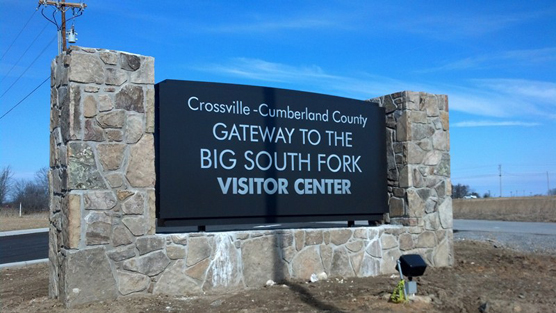 News Release Date:
April 9, 2014
Contact: Howard Duncan, 423-286-7275
Contact: Dave Carney, 423-569-9778
The National Park Service is pleased to announce the grand opening of the Gateway to the Big South Fork Visitor Center in Crossville, Tennessee.  There will be an open house all day (9:00 a.m. to 5:00 p.m. Central Time) on Thursday, April 17, with the official ribbon cutting ceremony scheduled for 10:00 a.m. (CT).  Located at Exit 320 just off of Interstate 40, at 176 River Otter Drive, the visitor center will serve the entire upper Cumberland region including Big South Fork National River and Recreation Area and Obed Wild and Scenic River.
The visitor center is a partnership between the National Park Service, the Tennessee Department of Transportation, the City of Crossville, Cumberland County, and the Crossville-Cumberland County Chamber of Commerce.  The new center will be operated by the Chamber of Commerce with assistance from National Park Service rangers.  The Gateway to the Big South Fork Visitor Center is a great place to begin your adventure into the Big South Fork and surrounding area.  Celebrate National Park Week, April 20 through April 26, by stopping by the new visitor center.
Please contact the park at (423) 569-9778 for further details and information.