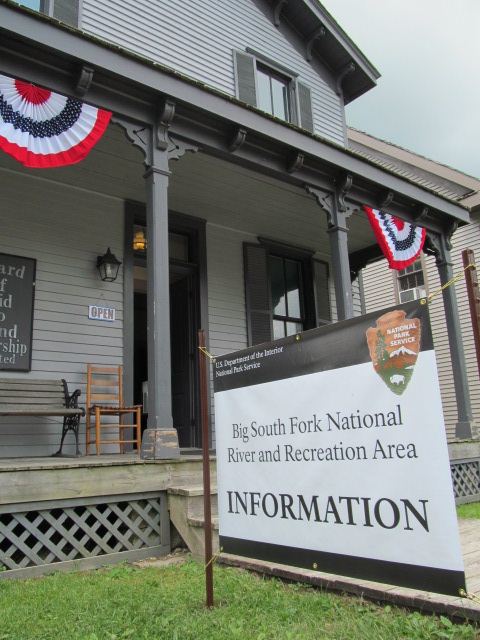 News Release Date:
June 16, 2014
Contact: Dave Carney, 423-569-9778
Contact: Niki Stephanie Nicholas, 423-569-9778
A grand opening and ribbon-cutting for the new Rugby ranger station of the Big South Fork National River and Recreation Area will be held Saturday, June 21, at noon (ET) in the center of Historic Rugby, just off state Highway 52.
The event is open to everyone and attendees to the event will be treated to live music by 3-D Dulcimers of Fentress County, enjoy light refreshments and can join a National Park ranger for a hike to the Clear Fork River if they like.  The new station will be open each Saturday and Sunday from 9:00 a.m. to 5:00 p.m. (ET) throughout the summer until the end of September. The new ranger station will provide information on both the Big South Fork and the Obed Wild and Scenic River.  Visitors to Historic Rugby can also join the ranger for Saturday and Sunday hikes at 1:00 p.m. (ET) to the Clear Fork River in Rugby.  The station provides free park literature and sells back country hiking permits, hog permits and senior passes good for National Parks and other public lands, and issues free passes to the active military.
The ranger station is on the ground floor of Rugby's Board of Aid to Land Ownership Building, a reconstructed structure identical to the 1880 one that burned in 1977. That original building was the business and land sales office of the British-American Rugby settlement and boasted the area's first telephone, installed 130 years ago this year.
Early photos on display in the building today from Historic Rugby's archives show previous Rugby residents and visitors enjoying the river gorges that are now within the southern end of the Big South Fork.
"Visitors will see people hiking, fishing, shooting, picnicking, wading, swimming, milling, crossing bridges and even ice skating or being baptized in the period between Rugby's 1880 founding and the 1940s," said Zach Langley, Historic Rugby's Executive Director.
In addition to the grand opening activities, Historic Rugby is presenting a free-admission Antique Street Fair, 10:00 a.m. to 5:00 p.m. (ET), June 21-22.  The Harrow Road Café, operated by non-profit Historic Rugby, will be open as well for breakfast, lunch or dinner that Saturday.
Rugby is 17 miles east of Jamestown, Tenn., and seven miles west of U.S. 27 at Elgin, Tenn.  For more information, contact the Bandy Creek Visitor Center at (423) 286-7275.