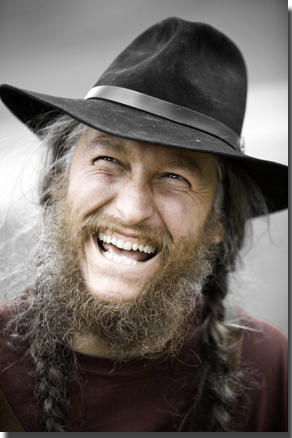 News Release Date:
August 19, 2014
Contact: Dave Carney, 423-569-9778
Eustace Conway, an American naturalist and featured personality on the History channel show Mountain Men, will join the all-star line-up at the 22nd Annual "Haunting in the Hills" Storytelling Festival, scheduled for Saturday, September 20, 2014. Mr. Conway will appear live on the Bandy Creek Field Big Stage at 3:30 p.m.
Owner of 1,000-acre Turtle Island Preserve in Boone, North Carolina, Mr. Conway is gifted storyteller – a showman, educator, and articulate communicator with keen attention to his audience.  Eustace has "lifetimes" of personal stories that he draws from to teach and entertain his audiences, such as the time the black snake crawled onto him, remaining for twenty minutes on his back before it crawled off peacefully going its' own way.
He loves his mountain heritage, the ideals of self-sufficiency and thoughts such as, "Use it up, wear it out, make it do or do without." He has built a complete historically accurate farmstead with nine hand crafted log buildings using only materials harvested right there on site. He trained his own mules, horses, and bulls to pull logs, sleds, and wagons and to plow the gardens. He set the world record for coast to coast horse travel from the Atlantic Ocean to Pacific Ocean in 103 days.  He went 800 miles across the Carolinas in 21 days.  He loves using horse power saying, "Horses can have babies, cars can't."
Studying modern America, he has found his most interesting subjects in people in cultural and environmental crises. Eustace has been teaching about environmental ethics for many years. He said, "Americans have separated themselves from the natural world. Today more than ever we need to understand and live by harmony and balance with nature, for truly, man separate from nature is a fantasy."
In 1987, Eustace founded a lifelong dream--Turtle Island Preserve, an environmental education center and 1,000 acre wildlife preserve near Boone, North Carolina, where he directs a unique approach of getting people in touch with nature. Eustace ideally works towards peace on earth through a bottom-line program of understanding and respecting the people and environment that governs the quality of our lives.  As an educator, he loves to uphold Emerson's quote, "What you do speaks so loud, that I cannot hear what you say."
Eustace is a veteran of an active life following the motto of "just do it!" Eustace camped alone for a week in the mountains at age twelve, living off the land and loving it! At age 17, he moved outside to live in an American Indian tipi, which was his only home for 17 winters. For years he wore only homemade buckskin clothes and made and gathered his implements. At age 18, he canoed 1,000 miles on the Mississippi River. Then he walked across America on the Appalachian Trail, completing the 2,000 mile journey. He kayaked the entire southern coast of Alaska amongst icebergs and whales. He has backpacked over 5,000 miles of wilderness trails in North America, Central America, Australia, New Zealand, and Europe. He has lived with many different Indian tribes celebrating their cultures with them.
For further information about this year's storytelling festival, call Dave Carney at (423) 569-9778.