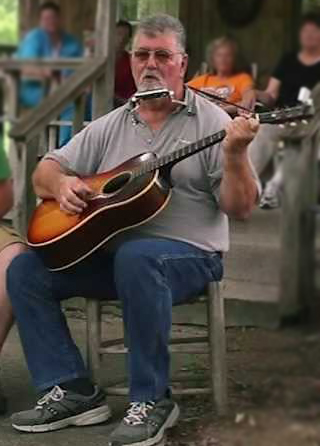 News Release Date:
January 13, 2016
Contact: Howard Pennycuff, 931-787-1755
Contact: Bill Herman, 423-286-7275
Big South Fork National River and Recreation Area proudly presents an interpretive program: Cumberland Plateau Music featuring Leonard Anderson. A park ranger will host this 45-minute event at the Crossville-Cumberland County Visitor Center, "the Gateway to the Big South Fork," in Crossville, Tennessee on Saturday, January 16, at 11:00 a.m. (Central Time). 
Leonard Anderson is a local artist who grew up next to the Big South Fork National River and Recreation Area. He is well-known artist who tells his stories about many of the local residents through his music. Leonard has been featured on the WBIR-TV: "Heartland Series" and at "Jammin at Hippie Jacks" in Crawford, TN. Come listen and sing along to Americana music at its best.
This event is free of charge and wheelchair accessible. Children should be accompanied by an adult. Everyone is welcome. For directions and additional information, please call Crossville Visitor Center at (931) 787-1755 or Bandy Creek Visitor Center at (423) 286-7275.