Date:
April 12, 2011
Contact:
Howard Duncan, 423-569-9778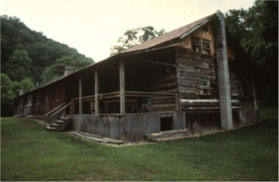 Big South Fork National River and Recreation Area Superintendent Niki Nicholas announced today that Charit Creek Lodge is once again open for guests. The lodge had been closed since January 1 of this year pending the selection of a concessions operator to provide services. Superintendent Nicholas stated, "The National Park Service is very pleased to have this beautiful facility available for our visitors. Charit Creek Lodge offers a unique way to experience the beauty and serenity of Big South Fork."

Charit Creek Lodge will continue to offer the same services guests have enjoyed in the past. Visitors will still be able to spend the night in rustic but comfortable cabins and enjoy home cooked meals. Equestrian guests will have access to the barn for their horses. The lodge is a wonderful place to escape the modern world for a while. While reasonably accessible, it is both isolated and remote feeling.

Services at Charit Creek Lodge are provided by NN The Woods, LLC. Larry McMillan, longtime owner of Southeast Pack Trips, is director of the firm managing the lodge. To view information about the lodge, go to www.charitcreeklodge.com. For reservations you may email Charit Creek Lodge at info@charitcreeklodge.com or call (931) 879-2776. You may also link to the lodge website from the Big South Fork website. For general information about Big South Fork, contact the Bandy Creek Visitor Center at (423) 286-7275.