Date:
January 25, 2007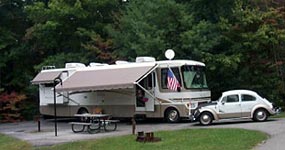 Beginning this season camping reservations at National Park Service campgrounds, including Big South Fork National River and Recreation Area will be made through the National Recreation Reservation Service.  In order to facilitate the change in companies, there is  a short blackout period in effect from January 24 through February 6, 2007 during which no reservations can be made. 
On February 7, 2007, at 10 a.m. Eastern Standard Time, customers will then be able to make reservations for camping at either Bandy Creek or Blue Heron Campgrounds through the new National Recreation Reservation System website, www.Recreation.gov or by calling the National Recreation Reservation System Call Center at 877-444-6777. At that time customers will also be able to make changes to any reservation made prior to the blackout period.
In addition to the new reservation system there are several other important changes concerning when advance reservations can be made:
For overnight camping and individual tours, customers can make reservations 6 months to the day in advance of the arrival date.
For group sites and organized tours, customers can make reservations 12 months to the day in advance of arrival.
Personal checks and money orders will no longer be accepted for advance reservations. All payments must be made by credit card at the time the reservation is made. 
Reservation requests will no longer be accepted through the mail. They will only be accepted through the internet and the toll free telephone number. 
For more information, please visit the Big South Fork NRRA web site at www.nps.gov/biso . For further information about Recreation.gov and the consolidation of Federal reservation services, visit www.Recreation.gov.