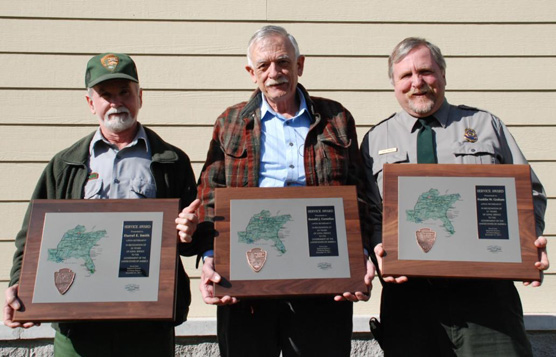 News Release Date:
December 12, 2011
Contact: Howard Duncan, 423-569-9778
The Big South Fork National River and Recreation Area is honored to announce the retirement of three long time National Park Service employees. Big South Fork employees Ron Cornelius, Darrel Smith and Frank Graham will be retiring at the end of December. These three individuals have a combined total of 111 years experience protecting the resources of our national parks and serving the citizens of our nation.
Ron Cornelius began his government service in the United States Air Force. He began working for the National Park Service at Blue Ridge Parkway, moved on to Everglades National Park and then to Great Smoky Mountains National Park before coming to Big South Fork in 1983. While at Big South Fork, Ron has served as a Minerals Management Specialist, Chief of the Resource Management Division, and as a Geographic Information System Specialist. He has 44 years of government service.
Darrel Smith is a native of Scott County, Tennessee. After serving in the United States Air Force, including service in Vietnam, Darrel came back home to Scott County. His service at Big South Fork began in 1980. Darrel was the second employee hired to work at the newly created park. He has worked in the Maintenance Division as an electrician and has worked on many different projects in the park. Darrel has also served as a wildland fire fighter throughout his career. Darrel has 36 years of government service.
Frank Graham is a second generation park service employee having grown up in the various parks where his father worked as a park ranger. After beginning his career at Kings Mountain National Military Park, Frank worked at Canaveral National Seashore, Great Smoky Mountains National Park, Ocmulgee National Monument, Kennesaw Mountain National Battlefield Park, and the National Park Service Southeast Regional Office before eventually reaching Big South Fork in 1995. At Big South Fork, he has served as Chief Ranger of Law Enforcement and Interpretive operations. He has 31 years of government service.
Superintendent Niki Nicholas was quoted as saying, "The level of knowledge, skill and commitment these three individuals have given to the National Park Service over their careers will be very difficult to replace. They will be missed by everyone who has worked with them."