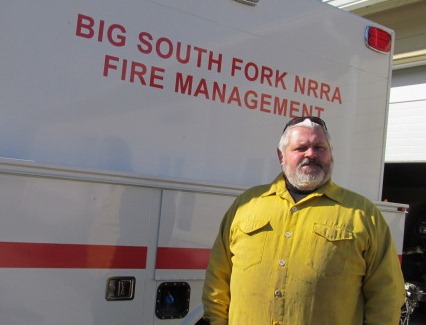 News Release Date:
January 12, 2015
Contact: Randy Scoggins, 423-569-9778
Contact: Matt Hudson, 423-346-6294
Ranger Tommy Barnes from the Big South Fork National River and Recreation Area was part of a group of 12 individuals that represented seven state and federal agencies that won the 2014 National Forest Service Region 8 Regional Forester's Honor Award for "Leading in the Business Environment."
The Regional Forester's Leading in the Business Environment award recognizes an outstanding individual or group that demonstrates exemplary accomplishments in ensuring an efficient and effective business environment. Award winners are those who have developed practices and procedures with measurable outcomes that improve customer service, management systems, or ensure financial and performance accountability.
The award was the result of the group's work coordinating the Tennessee and Kentucky Wildland Fire Academy. The Wildland Fire Academy usually offers 18 different courses to 350 students, from 20 states with an average of 13 different agencies represented.  Since its inception, an estimated 4000 students have attended and over 200 courses have been presented. The Academy started in 2001 and delivers training that has enabled it participants to obtain or maintain certifications to respond to fires and all hazard incidents all over the nation.
For more information on the Big South Fork's fire program, please call Randy Scoggins at 423-569-9778.