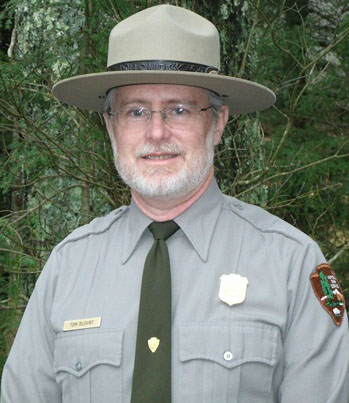 News Release Date:
February 7, 2013
Contact: Niki Stephanie Nicholas, 423-569-9778
The National Park Service's Southeastern Regional Office has awarded Tom Blount the region's top award for natural resource management for 2012. Tom is the division chief for resource management at Big South Fork National River and Recreation Area and the Obed Wild and Scenic River. The award is in recognition of Tom's outstanding contributions to natural resource management and natural resource protection through his role in the development of a comprehensive minerals management program at Big South Fork and Obed.
Under Tom's leadership, this program is resulting in the plugging and reclamation of the majority of the orphaned or abandoned wells in Big South Fork, the reclamation of abandoned well sites and access roads, the completion of a comprehensive oil and gas management plan and an Environmental Impact Statement to cover routine operations, and the identification and remediation of contaminated pits. This comprehensive strategy is allowing the parks to effectively mitigate safety issues affecting visitors, plug wells that threatened groundwater, clean up oil contaminated soils, reclaim sites, and fix the erosion of access roads and pads that can affect streams and aquatic organisms.
Blount holds a bachelor's degree in forestry and wildlife biology from the University of Georgia and a master of science degree in forestry from Virginia Polytechnic Institute and State University. Tom has been at the Big South Fork NRRA since 2001.
Tom is married to Elbie and they have two daughters, Brianna and Laurel, who attend the Oneida, Tennessee, School system.