Big South Fork Youth Conservation Corps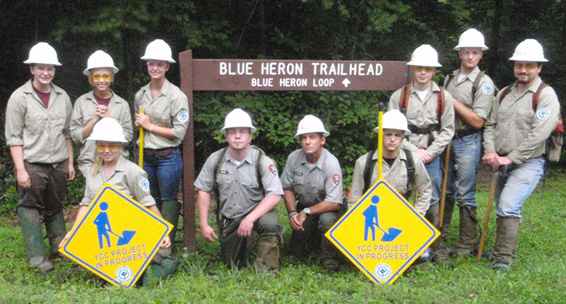 News Release Date:
July 25, 2013
Contact: Johanna Wheeler, 423-569-9778
Contact: Dave Carney, 423-569-9778
Eight students from McCreary County High School were selected to work on a Youth Conservation Corps (YCC) project in the Big South Fork National River and Recreation Area.  This year's project consisted of hands-on trail maintenance activities within the Big South Fork area of Kentucky.
During June and July, a wide range of trail maintenance activities were accomplished on the Blue Heron Loop trail: repair and replacement of water bars to prevent soil loss and erosion, painting and installation of trail signs, rehabilitation and leveling of trail tread to make smooth, sure-footing for trail users, and clearing of overhanging limbs and overgrown vegetation were completed on this project.
The YCC crew was responsible for rebuilding the foot bridge near the Laurel Branch of the Blue Heron loop trail.  Efforts of the students with guidance from National Park Service staff support a quality visitor experience along this popular route by improving the trail to a quality standard.  The students who participated in the 2013 YCC program were Zachary Clark, Dylan Jones, Amber King, Jonathan Lay, Megan Maxwell, Jeremy Ross, Kaitlin Stephens, and Harlee Wallen.
Since 1970, the Youth Conservation Corps program has operated as a work-earn-learn program for youth as authorized by Public Law 91-378 of 1970, as amended.  The program is administered by the U. S. Department of Interior's National Park Service and Fish and Wildlife Service and the U. S. Department of Agriculture's Forest Service.
The purpose of the YCC is to further the development and maintenance of the natural resources of the United States by America's youth and in so doing to prepare them for the responsibility of maintaining and managing these resources for the American people.  They learn work ethics and relate with peers and supervisors and build lasting cultural bridges between youth from various backgrounds.
YCC work projects take place in the outdoors on public lands, and include rigorous physical labor in all types of weather and in many types of environments – forested slopes at high elevations, grasslands, on and off trails, along waterways, and even in shallow water.  Youth receive training in tool use, safe work habits, teamwork and more, and are provided appropriate safety equipment.  Environmental education is also part of the work week.  YCC work projects last approximately eight weeks and typically begin soon after summer break from school begins.  Training and work projects are designed to help transition students into the workforce by providing them with basic, yet marketable, work skills to increase their employment potential.  Learning skills such as resume writing and interviewing are also part of the learning experience.
Last updated: April 14, 2015