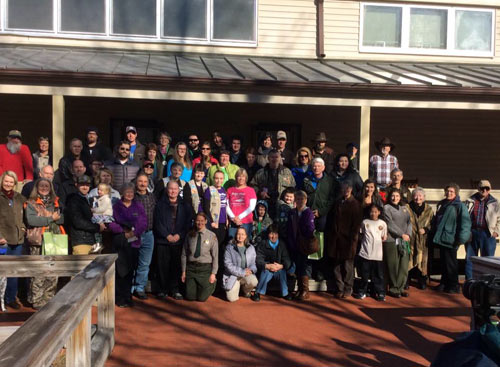 News Release Date:
December 16, 2016
Contact: Mary Grimm, (423) 286-7275
Contact: Bill Herman, (423) 286-7275
In celebration of the National Park Service Centennial birthday, Big South Fork National River and Recreation Area hosted the Centennial Challenge Celebration on Saturday, December 10, at Bandy Creek Visitor Center. To date, 125 participants had turned in their Centennial Challenge logs completing over 15,000 miles of hiking, mountain biking, horseback riding, and paddling within the park. During this cumulative celebration visitors who participated in the Centennial Challenge: 100 Miles for 100 Years, were recognized for their accomplishments with a presentation of special awards.  
Winners for each category were:
Most Miles Hiked – Scott Phillips, Clarkrange, Tennessee
Most Miles on Horseback – Jan Ballinger, Jamestown, Tennessee
Most Miles Mountain Biked – Jeff Murphy, Crab Orchard, Tennessee
Most Miles Paddling – Cathi Jolly, Allardt, Tennessee, and Fran Ming, Jamestown, Tennessee
Most Overall Miles – Jan Ballinger, Jamestown, Tennessee
Furthest Distance Traveled to Complete the Challenge – Jason White, Maury County, Tennessee
Those in attendance also voted for the Centennial Trail of the Year in each category of activity. For hiking, visitors chose the Honey Creek Loop trail for the award. For an equestrian trail, the Jack's Ridge / Charit Creek trail was awarded top honors and for mountain biking the Grand Gap Loop / John Muir trail was chosen.    
Participants have until the end of the year to still complete the challenge and turn in their logs for a special Centennial Challenge patch. For more information, please contact Bandy Creek Visitor Center at
(423) 286-7275.