Date:
March 17, 2014
Contact:
Dave Carney
, 423-569-9778
Contact:
Effie Houston
, 423-569-9778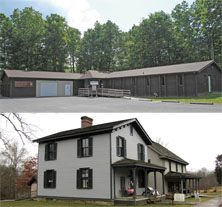 Superintendent Niki Stephanie Nicholas is happy to announce that Big South Fork National River and Recreation will be staffing information centers on holidays and weekends in Rugby, Tennessee, and Stearns, Kentucky, from Memorial Day until Labor Day to meet visitor needs for information and orientation.  Staff will be available from 9:00 a.m. until 5:00 p.m. (ET) Saturdays and Sundays in the historic Board of Aid building at 5517 Rugby Highway in Rugby, Tennessee, and at the National Park Service Ranger Station at 300 Wilburn K Ross Highway in Stearns, Kentucky.
The two information centers will be open to provide information and orientation to park visitors.  In addition to getting directions, visitors can purchase backcountry permits and pick up park maps, newspapers, ranger-led program schedules and other park information without having to travel the distance to the Bandy Creek or Blue Heron Visitor Centers.
For more information, call the Bandy Creek Visitor Center at (423) 286-7275.