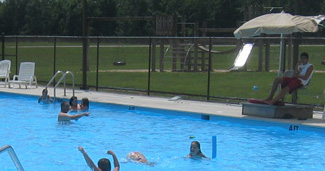 News Release Date:
February 23, 2016
Contact: Letitia Neal, (423) 569-9778
Contact: Chris Derman
What better way to enjoy a hot summer day than to be paid $11.30 per hour to sit by a swimming pool? Big South Fork National River and Recreation Area invites interested candidates who want to become a lifeguard to apply online at https://www.usajobs.gov/GetJob/ViewDetails/426592800. The position is required to work Saturdays, Sundays, and holidays from May 28, 2016, through September 5, 2016.
Applicants must possess an American Red Cross Lifeguard Certification before starting work. Lifeguard certification courses are currently being offered through the YMCA of Knoxville, Tennessee; City of Oak Ridge, Tennessee, Recreation and Parks Department; YMCA of Cookeville, Tennessee; and Williamsburg Kentucky Aquatics.
The Bandy Creek pool is located in the heart of the Big South Fork and was built in 1988, by the Army Corps of Engineers, and is a rare amenity for a National Park Service campground. The complex contains a main pool, wading pool, accessible restrooms, outdoor shower, volleyball court, playground, and picnic shelter. For more information about the pool, please use the following link: https://www.nps.gov/biso/planyourvisit/bandy-creek-swimming-pool.htm
For more information on how to apply, contact the park headquarters at (423) 569-9778 or by email at biso_information@nps.gov.