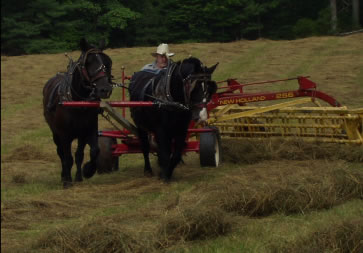 News Release Date:
August 11, 2014
Contact: Dave Carney, 423-569-9778
Park staff is busy haying fields in the Bandy Creek area in preparation for the 22nd Annual "Haunting in the Hills" Storytelling Festival scheduled for Saturday, September 20, 2014. The park needs the fields mowed in preparation for the big tents that will be erected for the event.
Each spring, the Big South Fork National River and Recreation Area also cultivates approximately eight acres of orchard timothy grass, totaling more than 600 bales of hay. The hay is then used to feed park horses throughout the year. In addition to providing an important food source for park horses, the planting activities serve as a fun and educational event for visitors during the annual Spring Planting Festival in April. Planting the orchard timothy grass is done with a team of horses driven by park staff or volunteers. The hay is then harvested in time for the annual storytelling festival.
For further information about this year's storytelling festival, call Dave Carney at (423) 569-9778.