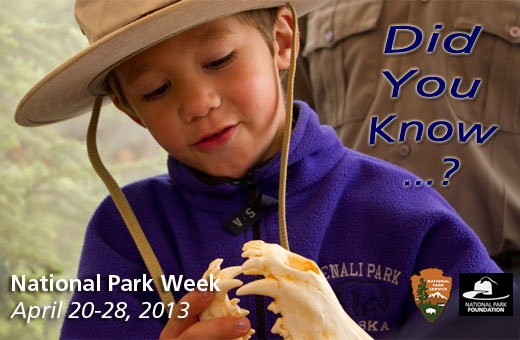 News Release Date:
April 15, 2013
Contact: Letitia Neal, 423-569-9778
Did you know that there are 401 national parks?  That they include seashores, battlefields, recreation areas, historic homes, archeological sites, and spectacular natural areas?
Did you know there is at least one national park in every state?
Did you know that the Big South Fork National River and Recreation Area is the fifth largest national park in the eastern United States?
So, if you are looking for something fun and fantastic to do with family and friends, head out to America's national parks where millions of stars light up the dark night sky, wildlife roam, and history is an unbelievable experience, not an exam.
The National Park Service is proud to once to present National Park Week, a presidentially proclaimed celebration of our national heritage.
Big South Fork National River and Recreation Area will be celebrating National Park Week starting Monday, April 22nd through Friday, April 26th by authorizing free camping at Alum Ford Campground in Kentucky and free backcountry permits throughout the park for the week.
On Saturday, April 20, the Big South Fork will celebrate National Junior Ranger Day, parks will invite young visitors to "explore, learn, protect" and be sworn in as Junior Rangers.Park Ranger will give a guided walk to Mule Shoe Shelter where children can earn their Junior Ranger badge.  The walk will start at 10 am at the Bandy Creek trailhead.  All children will need be accompanied by an adult.
For further information, call Bandy Creek Visitor Center at 423-286-7275.