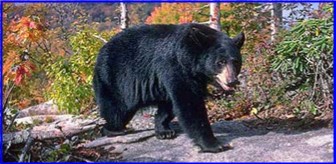 News Release Date:
June 21, 2013
Contact: Bill Herman, 606-376-3787
Contact: Effie Houston, 423-569-9778
The Big South Fork National River and Recreation Area announces a 45-minute, ranger-led interpretive program about Big South Fork's largest mammal: American Black Bear.  Please come and enjoy an evening outdoors with Ranger Debby Zimmerman at the campfire circle to learn more about a myriad of bear-related topics such as historical relationships with human cultures, black bear biology, how to stay safe in bear country, and your role in keeping bear populations wild.  This fun, fact-filled evening activity begins promptly at 7:30 p.m. (EDT) on June 22 at the Blue Heron Campground.
This campfire circle program is free of charge and wheelchair accessible.  Please wear weather-appropriate clothing.  Everyone is welcome.
For directions or additional information, please call the Blue Heron Interpretive Center at (606) 376-3787.