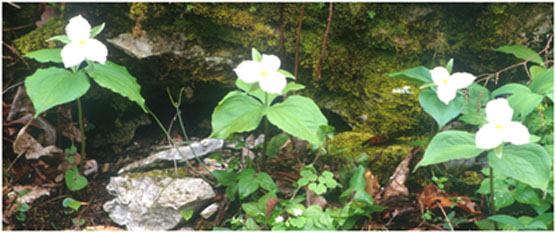 News Release Date:
April 22, 2011
Contact: Sue Duncan, 423-286-7275
Contact: Howard Duncan, 423-569-9778
Saturday, April 23, 2011 - Spring Wildflowers of Big South Fork
Join Park Ranger Howard Duncan on a delightful hike along the Big South Fork River searching for wildflowers. Meet Ranger Duncan at Leatherwood Ford gazebo to begin the hike at 10:00 a.m. Eastern Time. You may learn to identify some of the more common spring wildflowers and discover some uncommon ones as well. Wear comfortable walking shoes; bring your wildflower guide, your camera and your interest in discovering nature. For those wanting to bring along their lunch, you may chose to stop at Angel Falls Rapid and enjoy a picnic. The hike is an easy four mile round-trip to the Angel Falls Rapid and back to Leatherwood Ford.

Saturday, April 23, 2011 - Take a Ride on the Wild(flower) Side
Spring is a wonderful time to ride your horse at Big South Fork. Have you ever wondered about or even noticed those flowers blooming along the horse trail? Take some time to ride the trails with Park Ranger Sue Duncan in search of spring wildflowers. The group will stop to look at wildflowers along the trail, learn a few of their names and talk about some of their legends and stories. Riders will be traveling to Charit Creek via the Jacks Ridge and Black House Branch trails then follow Station Camp Creek horse trail and return by way of the Duncan Hollow Trail to Bandy Creek. The entire ride will be an approximately 15 mile loop.

This horseback ride will leave from the Bandy Creek Equestrian Trailhead at 9:30 a.m. Eastern Time. You must bring your own horse. You may want to bring water and a wildflower guide with you. Pack a lunch, as there are a number of beautiful places to stop for a picnic along the way. For directions to the trailhead please call the number below. Riders should plan to dress appropriately for the weather.

If you have a question about either of these programs please contact Bandy Creek Visitor Center at (423)-286-7275.