Operating Hours & Seasons
The battlefield is open from sunrise to sunset daily year-round. Seasonal and temporary closures are listed by location below.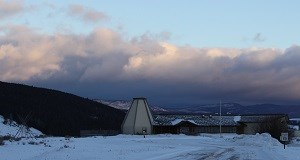 Big Hole National Battlefield Visitor Center
Beginning Monday, November 19,2018, the visitor center will be closed Mondays and Tuesdays. This closure will run through Tuesday, March 26, 2019, at which time the visitor center will return to being open daily. We are also closed on federal holidays October through February.
Summer Hours: 9am to 5pm.
(Currently in) Winter Hours: 10am to 5pm. We open an hour late in the winter to allow time for snow removal from roads, parking lots, and sidewalks.
Big Hole Lower Parking Lot Road
The road leading to the lower parking lot and trail-heads at the Big Hole National Battlefield is closed to vehicles each winter, but remains open for use by snow-shoers & cross country skiers. Open and closure dates vary year to year depending on snow-pack. The road to the visitor center remains open to vehicles year-round.
Last updated: November 9, 2018