Mammals at Big Hole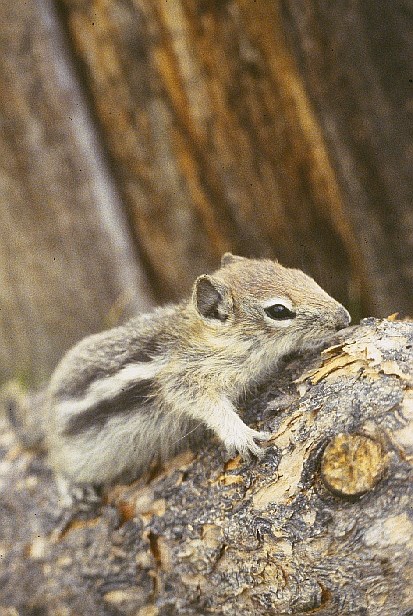 Bear Paw and Big Hole National Battlefield, both Montana park sites within Nez Perce National Historical Park, were once the home of large herds of bison (Bos bison), which the Nez Perce traveled to hunt. In fact, one Nez Perce name for the Big Hole valley were "place of the buffalo calf." Pronghorn antelope (Antilocapra americana) are now the most common large mammal, but mule and whitetail deer (Odocoileus hemionus; Odocoileus virginianus) may be found along stream channels where brush cover is available. Whitetail jackrabbits (Lepus townsendii), desert cottontail (Sylvilagus audubonii), ground squirrels (Spermophilus lateralis), coyotes (Canis latrans), and badgers (Taxidea taxus) are common.
The other name for the Big Hole valley was "place of the ground squirrels." Even today if you take a short walk down the park trail to the Nez Perce encampment area, you will see numerous ground squirrel holes and piles of discarded burrow soil.
Other mammals found in this conifer/alpine meadow ecoregion are gray wolf (Canis lupus), elk (Cervus elaphus), moose (Alces alces), black bear (Ursus americanus), mountain lion (Puma concolor), beaver (Castor canadensis), and porcupine (Erethizon dorsatum). Additional small mammals include flying squirrel (Flaucomys sabrinus), marten (Martes Americana), and woodrats (Neotoma cinerea).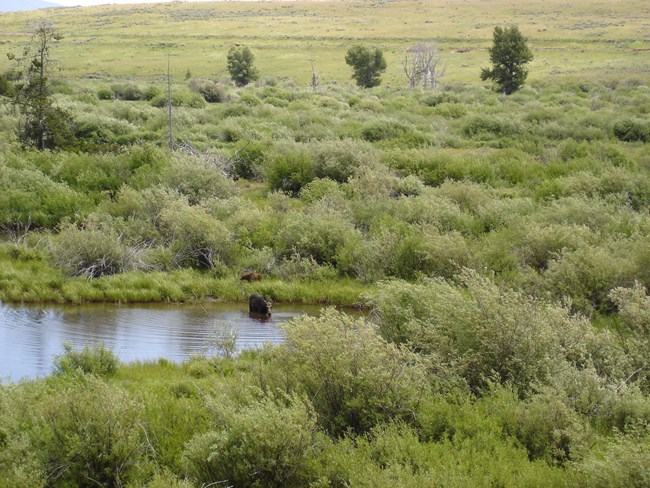 Mammals

English Name

Nez Perce Name

wolf

himeen

bison

qoqa'lx

pronghorn antelope

coqala'ynin

mule deer

te'wisin

whitetail deer

i'mes

rabbit

wila'lix

cottontail bunny

he'yuxc

ground squirrel

ta'tlo

coyote

iceye'ye

badger

si'ki

elk

wise'w

black bear

ya'ka

mountain lion

koyama'

beaver

ta'xcpol

porcupine

sa'cas

flying squirrel

ci'q

marten

ilu't


Last updated: October 29, 2019