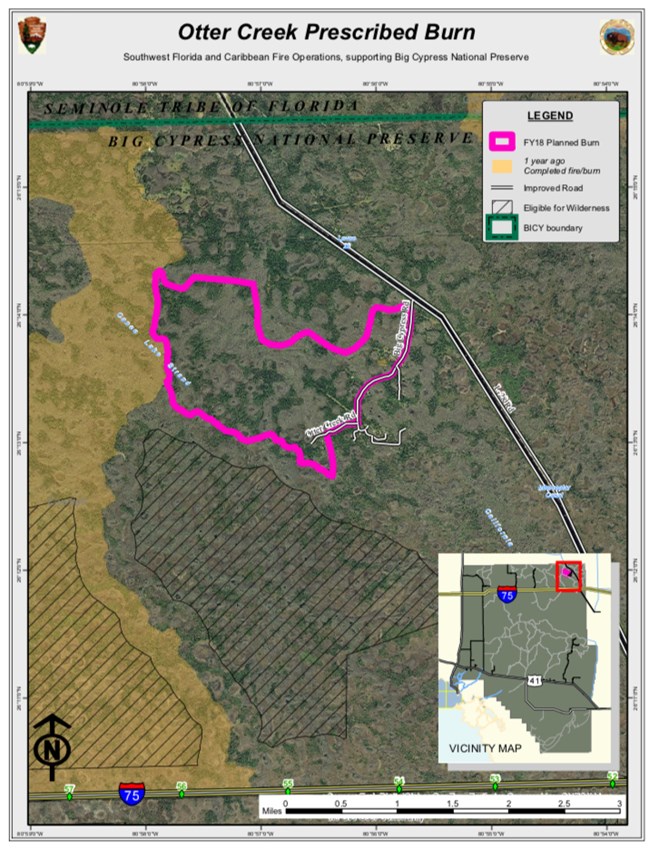 Otter Creek Prescribed Burn
Big Cypress National Preserve and the Southwest Florida & Caribbean Interagency Fire and Aviation will be moving forward with a prescribed burn on December 12, 2017. Firefighters will be conducting the prescribed burn in the Sanctuary Unit in Big Cypress National Preserve. The intent of this treatment is to take advantage of current water levels and go after acres that can be built upon for future treatments without major impacts to the Sanctuary community. The focus for this treatment will be on the surrounding areas around the Sanctuary community. We will continue to asses the potential of treating acres within the main community in the future.
If closures are required due to additional fire activity, an additional press release will be issued. The wildfire activity is managed by regional and area incident management teams and the Southwest Florida and Caribbean Fire and Aviation Management Program (SWFLCAR), a cooperative program between Big Cypress National Preserve and the US Fish and Wildlife Service Region 4, District 6.
If you have any questions or concerns please feel free to contact Greg Suszek (AFMO Fuels-FWS)
239-877-9545
, Orlando Genao
305-522-2532
(AFMO-Fuel-NPS) or the SWFLCAR Duty Officer
(239)719-0241
.