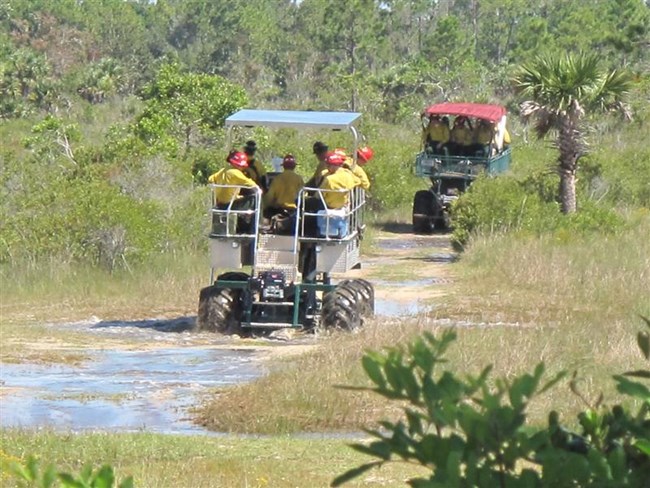 2011 was one of the driest summers in decades, and conditions were prime for wildfires to flare up in Big Cypress National Preserve. The recent 38,130 acre Jarhead Fire and the 10,524 acre Oil Pad Fire Complex tapped Preserve resources, prompting requests for assistance. When fires start roaring, it takes multiple government agencies and community assistance to manage and support the hundreds of people who answer the call. Big Cypress Fire Management Officer John Nobles knows when things heat up he has the support of neighboring agencies, which include Florida Panther National Wildlife Refuge, Everglades National Park, Florida Division of Forestry, Seminole Tribe of Florida, and Ochopee Fire Control District.
When a firefighter arrives at a large fire in the Big Cypress National Preserve, a variety of different agency patches and uniforms appear. "Once everyone has arrived on scene the patches come off and we are all one big team," said Nobles. Florida Panther National Wildlife Refuge Fire Management Officer P.J. Stevko shared much of the same sentiment. "We all come together and create a sort of All Star Team united with the objectives of protecting the public and wildlife by using low impact fire suppression tactics."
The 2011 active fire season emphasizes the importance of interagency cooperation and creates camaraderie among firefighters, no matter what agency they represent. "Each fire we fight together only makes us stronger as a whole," said Seminole Tribe of Florida Fire Management Officer Jeff Alter.
When different agencies cooperate with a common goal everyone is a winner including the local community. Fighting wildfires in hot and humid conditions with 30-40 lbs. backpacks and specialized equipment is extremely demanding. Firefighters tend to work up big appetites, which is why a good hardy meal really hits the spot. During the fires local restaurants in Everglades City supplied over 300 meals daily to hungry firefighters. Local hotels also provided these brave men and women a safe and comfortable place to sleep. Friendly hotel staff welcomed firefighters every night and bid them good luck every morning. "We couldn't do what we do if it wasn't for the support of the local community," said Florida Department of Forestry Fire Management Officer Joe Lecea.
Each fire season is uncertain, but one thing is certain; the best, most equipped and well trained firefighters in the world will be training and preparing, together, to do what they dobest - -protecting our homes, businesses, and the public lands we love.
by Mel Johnson