Citizen Science at Big Cypress
Citizen science is the practice of public participation and collaboration in scientific research to increase scientific knowledge. Through citizen science, people share and contribute to data monitoring and collection programs.

Collaboration in citizen science involves scientists and researchers working with the public. Community-based groups may generate ideas and engage with scientists for advice, leadership, and program coordination. Interested volunteers, amateur scientists, students, and educators may network and promote new ideas to advance our understanding of the world.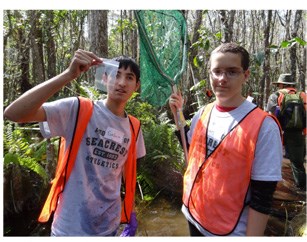 Recently, students participated in a study to determine mercury levels in the water using dragonfly nymphs.
Please click here to learn more about this fascinating study!
Last updated: April 14, 2015