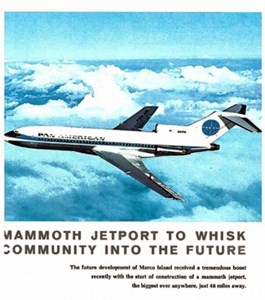 Spurred by increasing growth and the rapidly expanding population of South Florida in the 1960s, the state wanted to build a jetport that would support the growing community through futuristic aspirations of aircraft capable of carrying up to 1,000 passengers each, and capable of flying coast-to-coast in supersonic time.
However, aeronautical engineers understood that aircraft breaking the sound barrier over populated areas would not be tolerated, although supersonic airliners were considered the way of the future. As a result, Dade County Port Authority purchased 39 square miles of remote swamp land 48 miles away from Marco Island (and just six miles north of the Everglades National Park boundary).
As work began in 1968, the ambitious Everglades Jetport was intended to have six runways. There would also be a 1,000-foot-wide corridor linking the airport to both coasts consisting of a new interstate highway and monorail high-speed mass transit system. Five times larger than JFK International Airport, it was to be the largest airport in the world.