Past Artist-in-Residence Participants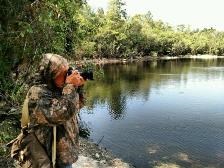 Jerry Fleury - Photography
http://www.imagesofthesoul.org/
In Residence May 2017
When asked about his experience here at Big Cypress National Preserve as the Artist-in-Residence, Jerry offered this quote from Sebastiao Salgado:
"There are moments that you suffer a lot, moments you won't photograph.
There are some people you like better than others.
But you give, you receive, you cherish, you are there.
When you are really there, you know when you see the picture later what you are seeing."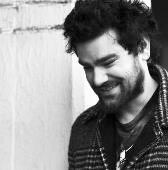 Eric-Alain Parker - Drawing, Painting, & Writing
https://ericalain.com/
In Residence March 2017
Eric-Alain Parker is a multidisciplinary artist who favors drawing, painting, and writing (if there's a difference) for their immediacy. As a naturalist, he encourages local geology and biodiversity to shape where he lives and what material he works from. A recent move from the Alaskan Arctic to central Florida has catalyzed his exploration of layered, artifact-riddled paintings that speak to the density of life, both past and present, that exists underfoot here.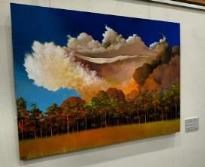 Priscilla Humay- Painting & Drawing
http://www.humayfineart.com
Residency February 2016 and September 2014
"Our nation's untamed beauty continuously captivates me. For many years, I have explored the extraordinary features of the national parks and state parks throughout this country trying to create and document what I see and sense. I am intrigued with uninterrupted visuals as far as my eyes can see. Except for these parks, tranquility and non-intrusive treasures are a rarity. I have often hiked through areas of Big Cypress and always wished to record its raw beauty. There is a rhythm and emotion to this natural area that I want to share through my art. My intent is to capture the essence of this vast 'place' and emphasize its unique beauty. Vistas embellished by changing skies and existing flora and fauna are my inspiration."
Linda Soderquist- Watercolor Painting
Residency September 2015

"After experimenting with various media, I have settled with watercolor, choosing it for its freshness and challenge of technique. My work has its roots in realism and I love the details, but I do not paint to produce a photographic image. Sometimes I start by blending colorful washes and then look for patterns to emerge, suggesting shapes from nature. Other times I paint quickly outdoors, intent upon capturing the unique play of light of a landscape. By retaining the white of the paper, I strive to create the sparkling lights of the subtropical climate through the use of intense darks. I use techniques of negative painting, spattered and dry brush edges, and glazing of colors to create images that highlight the bright beauty of the Florida environment."
Emily Weinstein- Oil Painting, Plein Air
Residency September 2015

"Dedicating two weeks to plein air painting in the Florida Everglades surrounded by wilderness that is new to me,without the everyday distractions works beautifully into my current project: the 25-year Handmade Book series. For the last five years (and next 20, Goddess willing) I have created a series of individually prepared books that meld my writings and paintings in unique format. This year happens to fall on my 60th birthday so that Volume VI will be about this momentous milestone in my life. A time of contemplation surrounded by natural beauty, I hope to make my experience as Artist-In-Residence the centerpiece of Volume VI."
Alyse Knorr- Poetry
Residency June 2015

"The natural world is my most powerful inspiration as a poet. 'History' and 'wilderness' are two terms held in tension for me in many interesting ways. Nature is always growing and changing, yet in many ways, it is also timeless. I am fascinated by the effect that one's natural environment has on his or her thought process, emotions, and value system. I have lived in rural, suburban, and urban settings, and want to investigate how all of these types of settings can make up a unified 'America,' let alone one unified individual like myself. For this reason, it would be particularly inspiring for me to transplant myself from the arctic tundra of Alaska to the swamp environment of the Big Cypress National Preserve and see how this affects my writing."
April McKay- Photography & Ceramics
Residency March 2015 and August 2014

"As an artist-in-residence at Big Cypress National Preserve, I intend to highlight the true, beauty of the swamp and its many residents. Throughout my journey, my passion for nature and ensuring its preservation will resonate highly throughout my photographic and ceramic artwork. My images, taken at eye level with each creature, will connect viewers face-to-face with the various inhabitants of Big Cypress and capture their true essence and character. Typically, the animals and habitats that I have not yet photographed become the basis of my ceramic exploration."
Xiomaro- Photography
http://www.xiomaro.com/
Residency February 2015
"I wish to 1) create a photographic collection of Big Cypress to emphasize the subtle beauty found in water reflections, soil formations, tree textures and other landscape details and 2) produce an experimental video celebrating the preserve through my experience and that of a park employee."
Rachael McClellan Leonard- Modern Dance, Choreography, Performace, Videography
Residency January 2015

"I have had the great fortune to witness and even immerse myself in nature by trudging waist deep through swamp waters and watching a late day sun fall into the prairie at dusk. Iwould like to create a series of dance vignettes and videographic images that capture this same sense of synergy that I have felt personally when connecting with the Big Cypress ecoworld. Using one male and one female dancer, I plan to create an interactive dancework and film that depicts dancers coming in contact with various aspects of nature in supportive and symbiotic ways. I plan to exhibit dance bodies in tandem with the natural landscape. I envision this piece serving as an artistic rendition of the reversal of negative human impact that parallels the positive role the Preserve has played in remedying the damage. This project promises to be a stunning series of kinesthetic and scenographic moving images that reveal both the diverse beauty and the immersive nature of Big Cypress."
Ramona Maziarz - Pen & ink
http://www.ramonamaziarz.com
Residency February 2014
"I am a pen and ink artist. My artwork is detailed, colorful and often humorous. The wonderful way different plants and creatures grow together is what drew me to the study of nature. Nature determinedly leaves no place empty or untouched; weeds, flowers, insects, and creatures living their lives entwined. It's that tangle of life I like to observe and ink. In the chaos of these layers, there is an order, a rule for life; to continue onward, upward, and outward. I try to bring my scenes a gentle acknowledgement to honor the common creatures. I also try to bring the reality not always sought; like the weeds and bugs in a cultured garden or flowers under the glow of the moon. My endeavour is to explore and find the small things lost in this busy world, bringing creatures and bits of nature forward so we may know them intmately again. It goes both ways, the creatures in my artwork look back at you as well."
Mark Fletcher - Ink/watercolor painting
http://www.markfletcher.embarqspace.com
Residency January 2014
"My method is to sketch and paint detailed observations from life. I complete some works entirely on site, relating the nature of the park directly in my work. In the studio, I recreate a particular site's impressions in more time-consuming media. My art tends to raise public awareness and appreciation for nature in the United States. When I show my work in galleries or museums, I encourage people to go to the places I have been. By visiting our parks, people are revitalized and will support plants and animals and their natural settings. These days our world is increasingly at risk, but America's national parks inspire folks to protect our ntaural resources."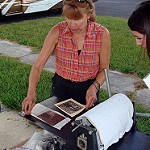 Anna Marie Pavlik - Printmaking, etching & stratograph
Website
Residency November 2013
"Growing concern for the survival of natural areas and a need to understand the relationship of people to their environment have encouraged me to work with nature-related themes. My images are focused on revealing and presenting how nature has functioned. I extract the concepts which I visually explore, from my observations of natural sites, science publications, and maps. By creating these works I hope to direct the viewer's attention to the irreplaceable value, sublime beauty, and mystery found within our natural environment."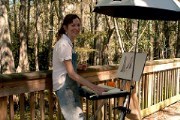 Lynn Uhlmann - Painting
www.LynnUhlmann.com
Residency October 2013.
"The beauty of nature transcends interefence from everyday distractions. Over the past several years, my paintings have drawn their inspiration from the wooded landscapes in Sleeping Bear Dunes National Lakeshore, in northern Michigan. In my paintings, the viewer is surrounded by an intimate outdoor room of magnificent trees. The patterns of light and shadow inspire an emotional connection to the natural world. My work will continue to express the beauty of nature from this prespective. My technique includes elements of representation and abstraction."
Last updated: July 8, 2017