Ice Age Animals
Caribou, lions, muskox, mammoths, and bears.
Close your eyes and imagine a world where these animals live among each other. Could such a place exist? Incredibly, it did, and it was right where you are standing. This was the Bering Land Bridge.
During the last Ice Age, the oceans were 300 ft (91 m) lower than today. The floor of the Bering Sea became a bridge of dry land connecting Russia with Alaska. The climate of this land bridge was extremely dry and windy. Snow could not accumulate into the piles needed to form large ice sheets. The Bering Land Bridge was mostly ice free during the last Ice Age! It became a natural travel corridor for a great diversity of life, creating a community unlike anything today. For these species, the Bering Land Bridge was not just a temporary bridge between continents, but also a permanent part of their world;not just a rest stop during long journeys of migration, but also a place called home.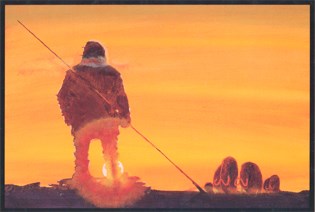 Learn more about these Ice Age giants:
Last updated: February 24, 2017