The fireweed is starting to bloom and in just a few weeks the tundra will soon erupt into the characteristic reds, oranges, and yellows that autumn brings. Upon closer inspection though, the low lying plants glow with ripe blueberries, providing a delicious distraction from the thoughts of seasons changing. At this moment I pause to reflect and remember all of what had happened, and all of the cool places I've gotten to visit over the course of the summer during my position as a student-hire Park Guide at Bering Land Bridge National Preserve. While hiking I start to get lost in the experiences and my thoughts; and it's the good kind of lost. I get analytical and try to deconstruct or define what makes a place special or meaningful. "Is it its place on a map? Maybe places are special because of what happens there? Is it the history?" I wonder. As I continue up the slopes, I look around and come up with three elements that constitute special places for me: specialness comes from the people, the landscape, and the life that thrives in a particular place. Working for the Preserve afforded me plenty of opportunities to interact with all three of these elements in lots of pretty awesome ways. I've decided to share three highlights, in brief, from the summer that aim to justify how this season at Bering Land Bridge National Preserve definitely earned a spot on my 'special places' list. 
The People 
Most of our interaction with the people around the area was in the form of Junior Ranger programs for the local kids. Naturally, we had some pretty great adventures delivering and coming up with ideas for programs. Songs, maps, and a prehistoric ice age animal twister-game soon became a reality. Outfitted with travel to nearby villages and adventures in & around Nome, we were nearly always greeted with happy, eager kids ready to discover. One day that stands out for me is when we taught about maps and went orienteering with Junior Rangers in Nome. Navigating as a group from point-to-point in town and on the beach with our soggy maps was a pretty cool way to spend an afternoon at work, all while imprinting an important wilderness skill.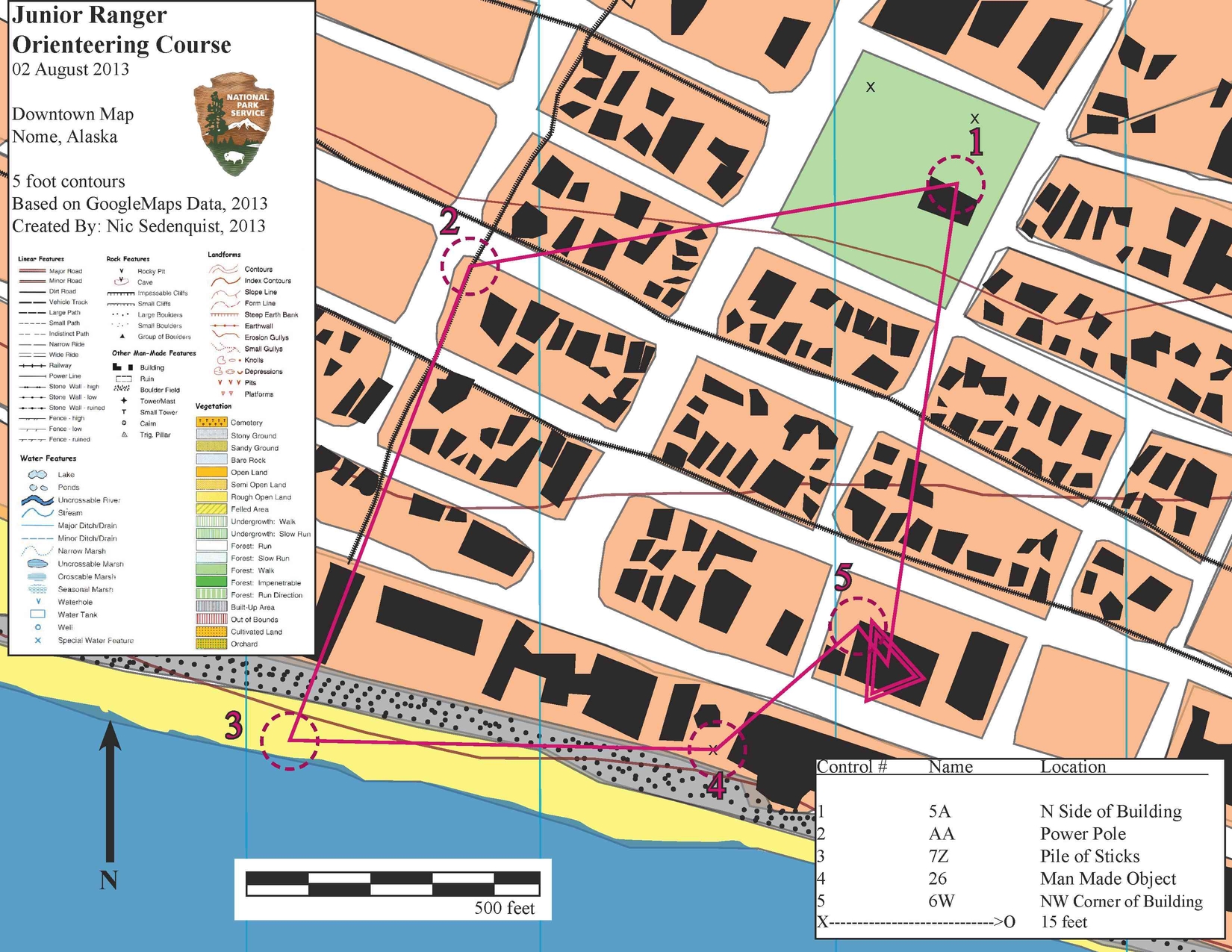 The Orienteering Map We Used to Navigate Around Nome
The Landscape 
Lava beds, maars, and tors oh my! Learning the vocabulary and about some of the natural processes that have shaped the landscape was a nice way to spend the summer -- but getting out to experience the area made the summer spectacular, especially our trip to Serpentine Hot Springs. Another one of the best days, though, was spent scouting out a route for a guided nature hike up near Skookum Pass, off of the road to Council. The wildflowers, tundra sunshine, warm temperatures, and great vistas made for a fantastic day. Luckily, the weather held for a few days and we encountered nearly the same conditions on our guided outing the following Saturday.


Summit Panorama from Peak 2033' near Skookum Pass
The Animals 
Prior to coming to Nome, I had never seen a muskox in the wild. Part of the reason for that was probably because I had never been to an area where they lived before. Throughout the season, I've gotten to see them maybe a dozen times around town, and a few times further afield. It is always impressive that such animals are able to thrive in such a cold and often unforgiving environment up here in the North. Here's a picture from one of our encounters of a muskox grazing away on grasses and shrubs of the tundra. We watched the herd for a good fifteen minutes before continuing on our way. It was a neat sight!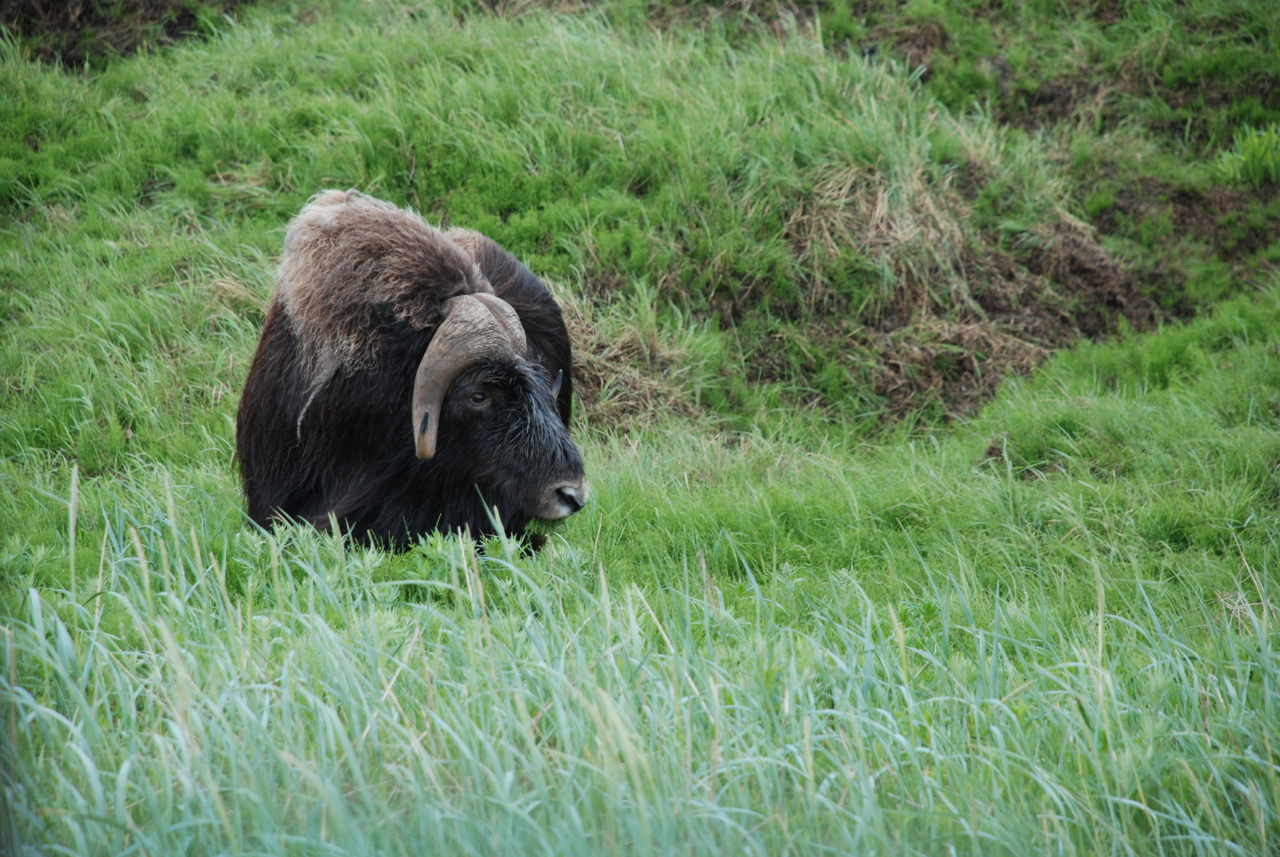 A Muskox Poses Before Grazing Away on the Verdant Grasses
With that, I'm thankful for the opportunity and time spent here up in Nome and Bering Land Bridge National Preserve. As you can see, it has been a summer of wonder, and Bering Land Bridge has certainly earned its merit as a 'special place' for me.
---
Bio
My name is Nic Sedenquist and I'm the student-hire Park Guide here at Bering Land Bridge National Preserve. I've been working on some of the interpretive programming and media/web work here. Originally from Anchorage, Alaska I'll be heading back to school here soon to resume studies in Biology & Geography at Memorial University of Newfoundland in St. John's, NL, Canada. It's been a great season so far and I'm glad for the rewarding opportunity to put some of my schooling to use for the National Park Service.