Swarms of mosquitoes await us just outside of the Serpentine (called 'Iyat' in Inupiat) bunkhouse. The constant whirring of those little wings is relentless – these mosquitoes are serious about their 'blood' business. I've tried 30-minute intervals of DEET poisoning, mosquito headnets, and wearing multiple layers of clothing, but they seem to always sneak in somewhere – or just bite right through the thick clothing I'm wearing.

Then the clouds move in, the wind picks up, and rain is on its way. We're in luck on our full-day hike - the mosquitoes don't seem to be a fan of windy days.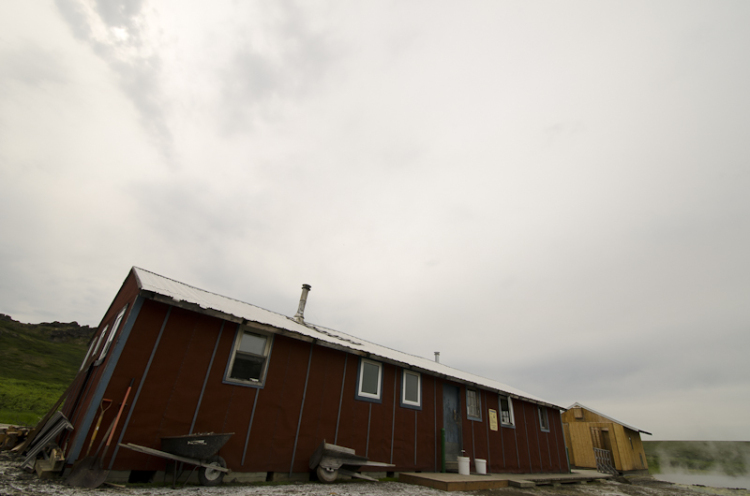 About a half mile in, we take our first stop. Arctic Hot Springs is certainly an otherworldly sight. This river of yellow, orange, and green algae was once home to the original soak house built in the early 1900s, however it was abandoned soon afterwards.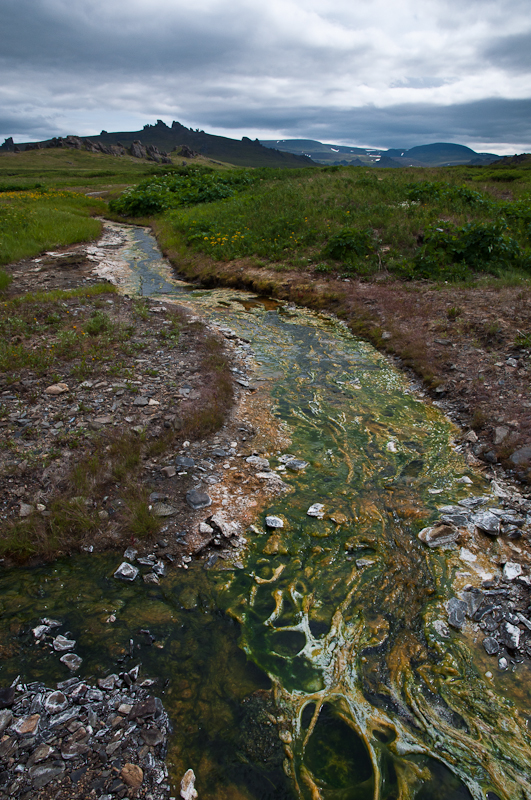 Next we head up along the high ridges, where towering granite tors stand like silent guardians overlooking the valley below. Indeed, many of them look like they could awaken at any moment from their age-old slumber. Shapes are visible in almost every tor we pass. One looks like a forlorn warrior, another like an old man with a knob-nose. Some look like citadels turned to stone by an evil warlock, or gates to an ancient city. There are even some that look like giant muskox on a hill, encased in stone for eternity.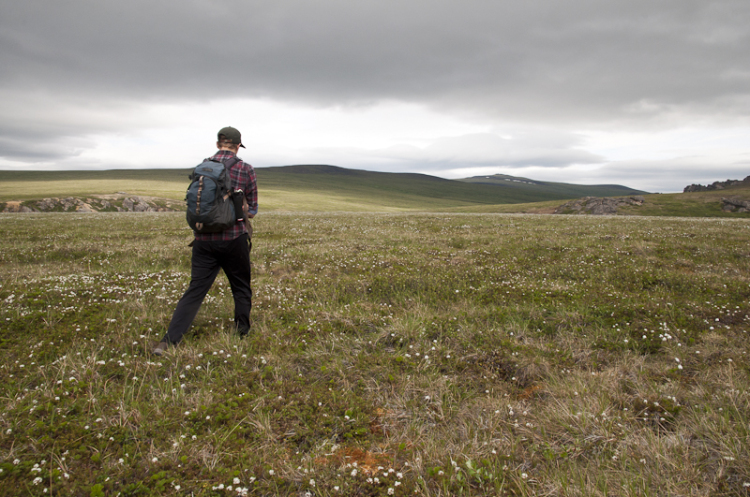 A plethora of animal remains only add to the strangeness of this area. Caribou antlers, muskox skulls, and other bones are common throughout the land. We joke that perhaps the bones are from creatures left with nowhere to run, who were literally eaten alive by the hordes of mosquitoes encountered during summer days. But even in the month of mosquito madness, there is an abundance of life and beauty. Wildflowers abound, fed by the rains of midsummer. Red-tailed hawks nest in tor crevices, and small animals such as the vole can be seen scrambling through the tundra tussocks.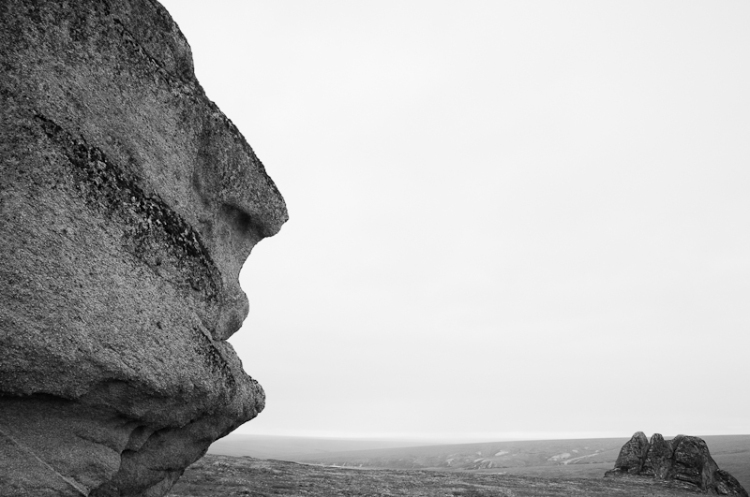 Serpentine has a long history of human visitation, and we are only the most recent to set foot in this venerable land. Locals have visited Iyat for healing purposes through many centuries past, and the practice continues to this day.

Now it is time to depart, and as I step on the plane I look back one last time to the timeless place I called home for four days. Soon it is a lego-sized speck on the ground and becomes smaller and smaller, until it disappears completely as we fly over a ridge. Iyat is certainly a spellbinding place; a hidden gem within the National Parks.
---
Bio:
My name is Dev Dharm Khalsa and I am an
SCA
Multimedia Development Intern with Bering Land Bridge National Preserve. This summer I will be creating photo and video projects highlighting the wildlife of Bering Land Bridge NP and the surrounding area. Originally from Wasilla, Alaska, I am a rising senior at the College of Wooster in Wooster, Ohio, where I study Philosophy and Studio Art. I am very grateful for this amazing opportunity to travel the Seward peninsula and translate its natural beauty for others to enjoy.