Main Loop Trail Stop 2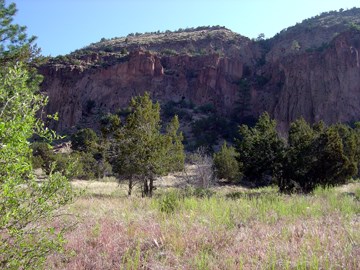 The canyon-and-mesa country around you is part of the Pajarito Plateau, formed by two violent eruptions of the Jemez (HAY-mess) Volcano over one million years ago. Located fourteen miles to the northwest, this powerful volcano ejected enough material to cover this four hundred square-mile area with a layer of volcanic ash up to one thousand feet thick. Each of the two Jemez eruptions was six hundred times more powerful than the 1980 eruption of Mount St. Helens.
The pink rock of the canyon wall may look like sandstone but it is actually volcanic ash that compacted over time into a soft, crumbly rock called tuff. Tuff is very easily eroded by the action of wind and rain. Some components of the tuff erode more easily than others. Over time the exposed rock takes on a "swiss cheese" appearance. Ancestral Pueblo people used tools to enlarge some of the small natural openings in the cliff face. The soft rock made excellent building material. Stone dwellings were constructed in front of these enlarged openings.
Frijoles Canyon lies in an area where numerous volcanic eruptions have shaped the landscape. Other local volcanic activity provided harder stones such as obsidian and basalt. The Ancestral Pueblo people used these materials for tools and as trade items.
Last updated: February 24, 2015