Main Loop Trail Stop 21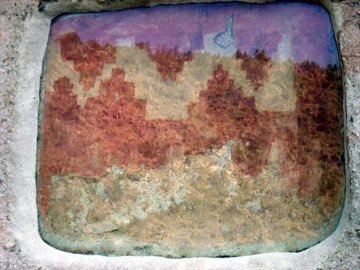 This painted design, or pictograph, was part of the back wall of a second story dwelling. Uncovered behind a layer of plaster, this pictograph was probably created for a very specific purpose, then covered over.
The Ancestral Pueblo people were drawn to Frijoles Canyon by the abundance of resources found here. They led daily lives of hard work and family activities. Homes were built from the available stone, and children were raised generation after generation. For over 400 years these places were filled with the sound of laughter, grief, and worship. What caused the people of Frijoles Canyon to leave a place they called home? Were the resources that had seemed so plentiful depleted? Did the game animals leave as the land was cleared for homes and fields? Did a major multi-year drought and repetitive crop failures empty the food storage rooms? Undoubtedly, the people left in response to a concurrence of events. When they left, the people of Frijoles Canyon moved south and east toward the Rio Grande and the modern pueblos where their descendents still live today.
Although Pueblo people have not lived in Frijoles Canyon for over 450 years this site is not considered abandoned. Following age-old tradition, modern pueblo people believe their ancestors still inhabit this place in spirit. Please show your respect by staying on the trail, refraining from sitting on the walls of dwellings, and remembering those who came to this canyon so long ago.
Last updated: February 24, 2015