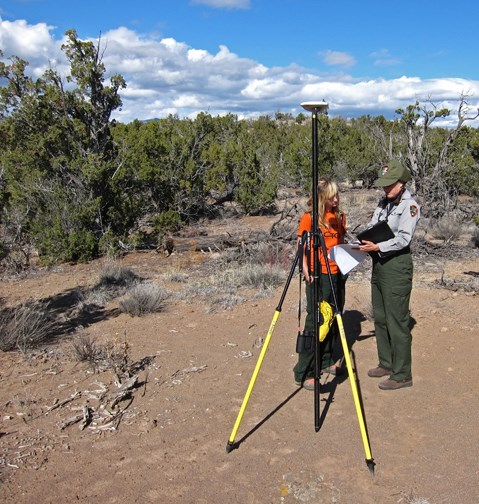 July 2012 A Mesa of Change
The ecology group has recently undertaken an effort to precisely map 1,000s of trees in the piñon-juniper woodlands of Bandelier. Using sophisticated GPS technology and a laser rangefinder we are able to map the trees with an accuracy of 15cm. This is 30x more accurate than a normal handheld GPS unit. The piñon-juniper woodland has seen significant changes in its species composition since the establishment of Bandelier National Monument. When the monument was first established ponderosa pine extended much further down the mesas than it does today. In the 1950s a mega-drought effected the southwest, during which much of the area experienced dry conditions not seen since the late 1500s. During the drought most of the lower elevation ponderosa on the mesas died. You can still see many of the dead pines as big old logs on the ground as you walk down the burro trail. Occasionally you will even see a tall standing ponderosa carcass. But for the most part ponderosas are now only able to survive in the wetter drainage bottoms, not on the drier lower mesas.
Before management of the mesas of Bandelier was under the jurisdiction of the federal government the piñon-juniper woodlands were heavily grazed by sheep and cattle. This led to suppression of low-severity surface fire as the grazers removed much of the fine fuels that would normally carry the fire. This indirect fire suppression transitioned into direct fire suppression in the early years of the Park Service. Fire suppression combined with continued land degradation through top soil erosion and grazing by an exotic feral burro population led to a "woodification" of the low elevation mesas. Woodification means the major portions of the mesas were once a more savanna-type system with large patches of grass separating relatively few trees but then gradually became a dense woodland of piñon and juniper. Because of the continued woodification of Bandelier's mesas an ecological restoration (https://www.nps.gov/band/parkmgmt/restore.htm) project was undertaken. This project involved many partners, and years of research. The treatment method was fairly simple and basic; trees within a certain size class would be cut into many pieces and their limbs and branches scattered into the open bare areas. The result is an increase in herbaceous plants (grasses, perennial flowers) due to a decrease in erosion and an increase in cooler moist places for plants to establish.