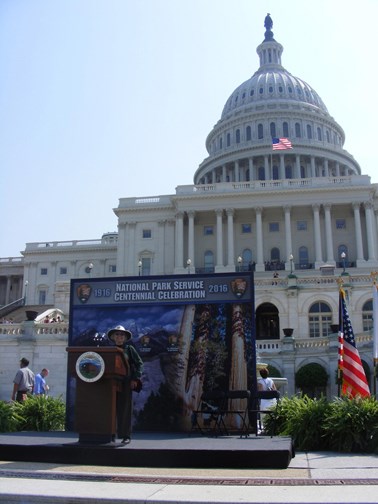 The President of the Friends of Bandelier, Dorothy Hoard, traveled with Bandelier National Monument Chief of Interpretation, Lynne Dominy, to Washington D.C. during National Park Week to accept Centennial Challenge funding from the Secretary of Interior, Dirk Kempthorne. The Friends of Bandelier provided matching funding to enable Bandelier to receive two Centennial projects from Congress in 2008.
From the steps of the Capitol Building, Secretary of the Interior Dirk Kempthorne unveiled the 110 national park improvement projects and programs that will get underway this summer, funded by an equal combination of public and private funds, under President Bush's National Park Centennial Initiative. The Initiative, announced in 2006, proposed an innovative federal Centennial Challenge matching fund that would be used to match philanthropic contributions for the benefit of our national parks between now and the 100th anniversary of the National Park Service in 2016. The more than $50 million in projects announced result from the combination of $24.6 million in federal funds that match nearly $27 million in philanthropic contributions.
"I am pleased to announce the first round of National Park Centennial Projects that will be undertaken with the first round of funding appropriated by Congress in the 2008 budget," Kempthorne said at the event supported by the National Park Foundation. "Ground will be broken and work underway very soon. This first round of projects will improve parks nationwide – large and small, urban and rural, natural and historical.
"And that's just for this year," said National Park Service Director Mary A. Bomar. "Congress continues its work on legislation to create the President's National Park Centennial Challenge Matching Fund, an annual fund to match up to $100 million a year of donations through our centennial in 2016."
The first round of Centennial Challenge projects range from expansion of a popular outdoor stewardship education outreach program for teen-agers in the Washington, D.C. area to saving endangered sea turtles along the Texas coast at Padre Island to renovation of Yosemite National Park's iconic Tunnel View Overlook to citizen scientist and citizen naturalist projects at national parks across the country.
"This funding will enable Bandelier National Monument to accomplish two important projects that would not have been completed without this special funding and without the generous matching donation from the Friends of Bandelier," said Bandelier Superintendent Brad Traver. "Bandelier will become a Climate-Friendly park by developing and implementing a 5-year sustainability plan to reduce the park's carbon footprint and to partner with nearby communities and organizations striving to do the same. The park will also be partnering with the Social Science Laboratory at Northern Arizona University to determine ways that Bandelier can become relevant to non-traditional park visitors who live close to the park but do not utilize it."
"The Friends of Bandelier is very excited about this funding," said Friends of Bandelier President Dorothy Hoard. "The federal government has actually enabled us to double the benefit of our money for Bandelier by matching it. We want Bandelier to be both environmentally sustainable and relevant to New Mexicans so we know that this money will help them to achieve both."
National Park Service Director Mary A. Bomar said, "We celebrate getting the first Centennial Challenge projects off the drawing board and into the parks. We also look forward to the day Congress passes Centennial Challenge legislation so that through 2016 there will be federal money available to match up to $100 million a year of donations. There are many more worthy projects partners are ready to support for the Centennial."
"I want to emphasize, however, my personal gratitude to the President and the Secretary for the centennial initiative," Bomar said. "I also offer my thanks and congratulations to our many partners who have provided overwhelming support for these projects so that we are able to reach so far just this first year of Centennial Challenge projects and programs."
Bomar said park superintendents will begin these projects almost immediately. "We really have to get cracking," she said. "Many of our parks have a short construction season for the brick and mortar and trail projects and our park rangers will need to quickly learn and add new programs for the big rush of visitors that return to the parks in a few short months."
Other highlighted Centennial Challenge projects and programs:
· Restoration of disturbed lands in Everglades National Park.
· A national effort to discover and record all living things in national parks with BioBlitzes and all-taxa biodiversity inventories in nine parks across the country.
· Upgraded and new interpretive trails at San Antonio Missions National Historical Park, Valley Forge National Historical Park, Kennesaw Mountain National Battlefield Park, Hagerman Fossil Beds National Monument, Point Reyes National Seashore and other parks.
· Restoration of ancient redwood forest and watershed in Redwood National Park.
· Water quality enhancement, restoration of endangered mussels, reintroduction of Trumpeter Swans and wetland habitat learning experiences for visitors at Buffalo National River.
· Creation of The Institute at the Golden Gate to advance preservation and global sustainability at Golden Gate National Recreation Area in San Francisco.
· Development and expansion of Junior Ranger programs at several national parks.
· Expansion of ranger interpretation at C&O Canal National Historical Park and the George Washington Memorial Parkway with new technology including podcasts and videocasts.
For a complete list of the 2008 National Park Service Centennial Challenge Projects and Programs please visit www.nps.gov/2016
For Centennial Initiative photos please visit www.nps.gov/pub_aff/2016photos/index.htm
For more information about Bandelier National Monument, call the visitor center at (505) 672-3861, ext 517 or visit Bandelier's website at www.nps.gov/band.