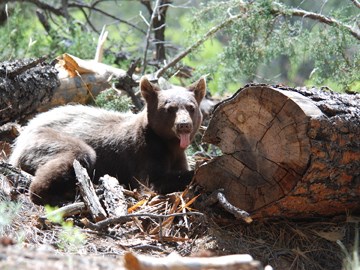 Black bears (Ursus americanus) are omnivores, eating almost anything including nuts, insects, small mammals, fruit, etc. Black bears are not all black. They vary in color from black to reddish brown to blond. They are good tree climbers and will quickly climb a tree when faced with danger (that often includes encounters with humans).
Black bears are not commonly seen in the park, however; there is probably a larger population living in the lush canyons and higher elevations meadows than sightings would indicate. On occasion a bear, or bears, finds its way into the most heavily visited area of the park. When that happens it is important that the bear remain wild and not become used to people and the food items they introduce into the park.
In the summer of 2007 a young black bear, probably about 2 years old and on its own for the first time, began frequenting the visitor center area and nearby picnic grounds. Tactics to dissuade the young bear from visiting populated areas were used. These tactics including chasing and yelling at the bear, throwing rocks, and pepper spraying the bear. It seems these tactics may have finally worked and the bear is rarely seen now. This is both good for the bear, who may have gotten in trouble with too much human contact, and for visitors.