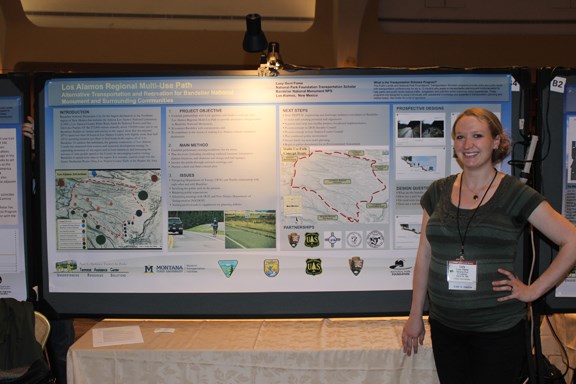 Transportation Conference January 2014
Transportation professionals from around the world convened for the 93rd annual Transportation Research Board Conference from January 12-15th in Washington DC. Among those professionals was Lucy Gent Foma, the Transportation Scholar for Bandelier National Monument. Lucy has been working with Bandelier since June 2013 through the National Park Foundation's young professionals scholarship program.
Bandelier's Transportation Scholar
Lucy's work includes improving signage to and within Bandelier, helping with the transportation study being conducted on further shuttle use, and developing the concept for a regional multi-use path. The multi-use path, informally named "The Bandelier Bike Loop," has developed the following goals: 1) To establish partnerships with local agencies in order to finalize a concept to provide alternative transportation to Bandelier; 2) To connect Bandelier with gateway communities; and 3) To contribute to the vision of making Los Alamos a family recreation destination. The Transportation Research Board gave Lucy the opportunity to present her work to federal and private transportation workers who were able to give her valuable feedback and suggestions on these projects.