Management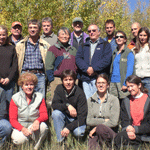 The Western Mountain Initiative:
Collaborative Research to Understand the Ecological Effects of Climate Change
The responses of mountain ecosystems to climatic changes are complex and not well understood. The Western Mountain Initiative (WMI), part of the USGS Global Change research program, seeks to understand and predict the responses of mountain ecosystems to climate variability and accordingly shape land management strategies. Bandelier is the core site for the Southern Rocky Mountains. The USGS Jemez Mountain Field Station at Bandelier plays an active role in data gathering, analysis and reporting for the initiative. Read more at WMI's website.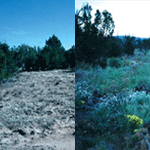 Restoration of the Pinon Juniper Woodland
The greatest threat to the protection and preservation of Bandelier's cultural resources, including archeological sites, is severe soil erosion in the Pinon-Juniper woodlands. Beginning in 1994, researchers at Bandelier found that simply reducing the density of trees and using the cut trees to provide a "erosion blanket" on exposed soils resulted in a three-fold increase in grasses and shrubs and reduced soil erosion. Read more...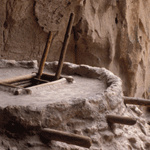 Historic Resource Study and National Register Nomination
During this planned three year study and consultation effort, the park and its contractors will compile prehistoric and historic data from all available sources and present it in a document that is both coherent and useful to park managers and other stakeholders. Read more...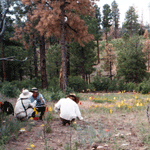 Completing the Archeological Inventory of Bandelier
Currently the park is about 78% inventoried and contains 2,879 archeological sites. An estimated additional 200 archeological sites will be located and recorded through this project. Read more...


Last updated: May 24, 2015