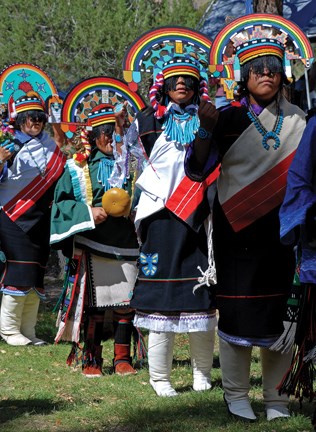 "Participating in our traditional dances, learning our stories and songs, maintaining our beliefs, practicing our traditional skills, and speaking our languages are essential to continuing the Pueblo cultures today." – Affiliated Pueblo Committee
Pueblo oral traditions are a continuous dialogue about all aspects of life including beliefs, stories, songs, dances, and skills. Oral traditions were fundamental to the survival of the Ancestral Pueblo people and are integral to the identity of the Pueblo people today.
Histories and Dances
Some stories recount the Pueblo people's movement to or from the Pajarito Plateau. Others teach lessons and share vital information. Although most stories are only spoken, some are depicted in paintings, petroglyphs, or dances.