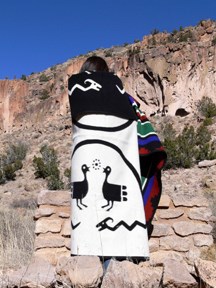 The Friends of Bandelier are private citizens who love Bandelier National Monument. A board of Trustees governs the activities under a formal Memorandum of Agreement with the National Park Service. The membership stays informed of Friend's activities, and of key issues affecting the Monument, through news letters, field trips, and announcements in the local newspapers. The mission of the Friends of Bandelier is to "Try to help where we can to do the most good" for Bandelier National Monument.
Click on this link to the Friends of Bandelier.
Private Donations to the park in general, or for a specific program can be made in the visitor center or by mailing your donation to:
Donations
Bandelier National Monument
15 Entrance Road
Los Alamos, NM 87544
The National Park Foundation also accepts donations that benefit all national park units.
Click here to go to The National Parks Foundation website