For Kids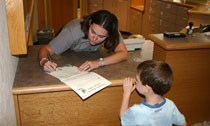 Become a Junior Ranger
What is a Junior Ranger? Good question! Junior Rangers are special kids of all ages just like you - adventurers, explorers, and nature and history lovers. They have made a special promise to help take care of national parks and all the plants and animals that live there. Junior Rangers teach others by sharing all they learn with their friends and family. You too can set a shining example and inspire others to take care of Badlands' natural and cultural wonders by becoming a Badlands Junior Ranger.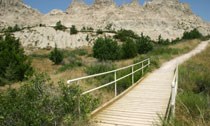 Take a Hike
No trip to the Badlands is complete without a hiking adventure. Kids agree that the Fossil Exhibit Trail and the Cliff Shelf Nature Trail are two of their favorites.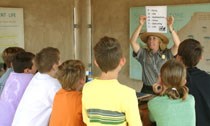 Enjoy Park Fun
The Badlands' environment changes constantly. Erosion carves the rocks into bizarre formations that look like landscapes from another planet. A heavy rain can uncover fossils that have been hidden for millions of years. Visit 'Park Fun' to learn more about this incredible world of rocks and fossils.


Last updated: January 26, 2018