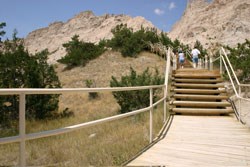 No field trip would be complete without an opportunity to hike at least one of the three recommended trails for K-8 self-guided field trips. Teachers can conduct activities along the trails. Please see the Cedar Pass Area/Trail Map (29 KB PDF) for exact trail locations.
Door Trail: The trail is an easy and accessible ¼-mile boardwalk with wayside exhibits about geology along the way. At the end of the boardwalk, the terrain becomes uneven with steep drop-offs. Travel beyond the boardwalk should be strictly controlled by adult chaperones. Pit toilets are located in the parking lot.
Suggested Activity: Geology Student Field Guide (1.1 MB PDF) and Scavenger Hunt (332 KB PDF)
Cliff Shelf Nature Trail: This ½-mile loop trail follows a boardwalk and climbs stairs to a nice view of the White River Valley. The trail winds through a juniper forest and offers many opportunities for plant and wildlife habitat observation. Wayside exhibits on the geography and history of the Cliff Shelf area are displayed along the trail. There are no toilets available; however, the trail is located ¼-mile from the Ben Reifel Visitor Center.
Suggested Activity: Habitat Wanted Lesson Plan (66 KB PDF), Habitat Wanted Cards (470 KB PDF)
Fossil Exhibit Trail: This trail is a ¼-mile boardwalk loop. Replicas of fossils discovered in the badlands are displayed along the way. Pit toilets are located in the parking lot. A small shelter is available on a first-come, first-served no-reservations basis at the trailhead.
Suggested Activity: Fossil Exhibit Trail Worksheet (25 KB PDF) (Teacher Answer Key)
Learn more about the ancient mammals of the Badlands from the Badlands Fossil Trading Cards (1.84 MB PDF).