Field Trips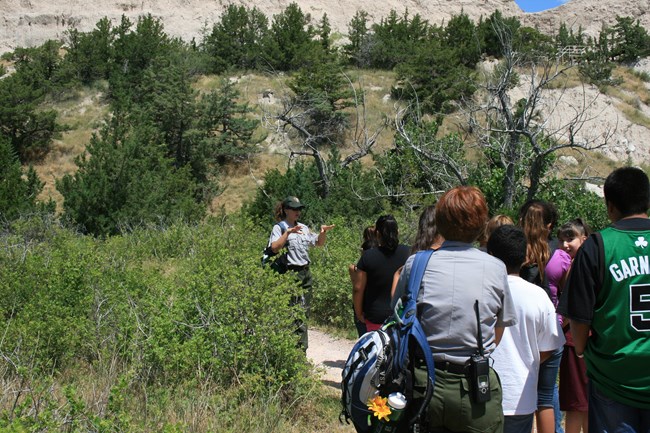 Bring your students to Badlands National Park to experience the prairie ecosystem, geology, history, and ancient fossils found in the rock layers.

Park rangers are available to lead groups on guided hikes or in a ranger talk. Park rangers can work with you to create a field trip itinerary that includes hiking, curriculum related activities, and to meet your desired learning outcomes.

Following the field trip, groups are welcome to explore the rest of the park on their own, picnic in designated picnic areas, and explore the Ben Reifel Visitor Center.
---

Badlands National Park provides:
Opportunity to learn in a National Park with a program focused on the geology of the Badlands, prairie animal adaptations, or naturalist skills.

One ranger for every 25 students (not including chaperones).

(Optional) One active learning exercise that lasts at least 20 minutes and relates to the purpose of the visit.

Fee waiver for educational groups.
Reservations
Submit a reservation request to e-mail us at least two weeks before the field trip. This allows time for fee waiver forms (see below) to be submitted and for the group to complete pre-visit lessons. Groups of 30-60 students can be accomodated and there is a 1 park ranger to 25 students (not including chaperones) ratio.
What to Bring
Badlands is a spectacular park any time of year. Each season brings its own challenges and ways to be prepared for a visit. Before you arrive at the park, be sure to check that:
All participants must wear closed-toed shoes and be dressed appropriately for the weather.

Bring water! Water is also available to fill a reusable water bottle inside the Ben Reifel Visitor Center.

Protect yourself from the sun. There is not a lot of shelter throughout the park. Hats and sunscreen are highly recommended.
Entrance Fees
Fee waivers are available to bona fide schools which allows for free entrance for students, teachers, and a limited number of chaperones. Waivers should be completed and delivered to the park two weeks prior to your visit.
A fee waiver is not necessary for classroom visits and distance learning programs.

Use the link below to access the form that includes academic fee waivers.
Education Reservation Request Form
Academic fee waivers should be sent to our fees and permits program at e-mail us

Contact the education specialist at e-mail us or (605) 433-5244 for more information, to plan, or to learn more.
Last updated: May 23, 2023