Artist in Residence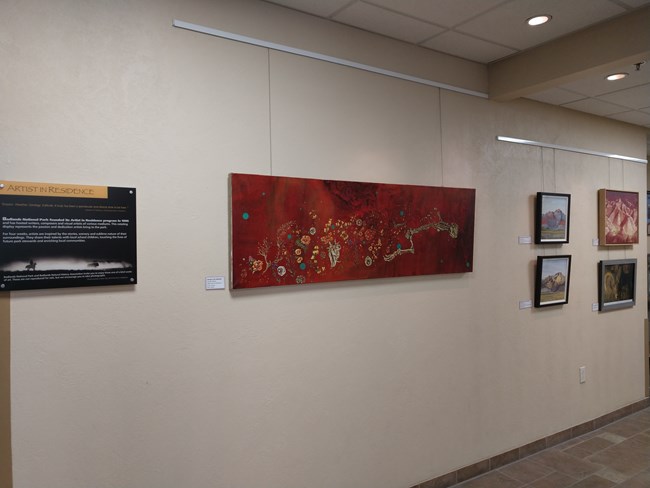 Program Description
The Artist in Residence (AIR) program at Badlands National Park was founded in 1996 and is open to all artists. Writers, composers and all visual and performing artists are invited to interpret this wind-swept environment through their work. The program provides time for artists to get away from everyday responsibilities to focus on their surroundings and their medium while interpreting the unique themes of Badlands National Park. Artists will translate the meanings and significance of Badlands National Park into artistic expressions within their chosen art medium.
The primary purpose of the program is to give qualified artists an opportunity to live and practice their chosen discipline, following their own inspirations, in a National Park. In return for the opportunity, the artist agrees to contribute to the Badlands mission through public programs while pursuing their own artistic growth. Participants meet with the program coordinator and plan a schedule that permits public interaction in the way that best utilizes the artist's talents and skills, while assuring adequate time to fulfill their personal goals.
Commitment to Public Presentation
Artists are encouraged to interact with park visitors as they work among the natural features of the park. In addition to interaction with visitors, artists will present at least three public programs during their residency. This interaction can be tailored to an individual's medium, interest, and experience. Programs can be demonstrations, talks, exploratory walks, or performances.
Public programs can be presented to park visitors, but we encourage interaction with schools. Badlands National Park has a strong commitment to area youth, particularly in our local rural school districts. Artists are encouraged to present at a local school (or schools) to introduce students to an aspect of art and its interpretation of their local National Park. Park staff can help artists connect with local schools.
Within one year after the residency, the AIR will provide one public presentation in their home community based on the residency.
Selection Process
Submissions will be reviewed in July of each year with artist notification on or before August 1st. Selections will be based upon artistic integrity, ability to interpret park themes and ability to connect with visitors and children.
All art forms are considered except those that manipulate or disturb the park's environment or are disrespectful to any race or gender. Selections are made without regard to race, religion, marital status, sex, age, or national origin.
Special consideration will be given to artists that create works that also fill a park need. These needs include photographs of visitors using the park to be used in publications, exhibit work (this may include collaboration with other artists), graphic design work for interpretive handouts and/or our webpage, and assistance casting, molding, and/or painting fossil replicas in our laboratory or creating content/visual aids/models for future exhibits.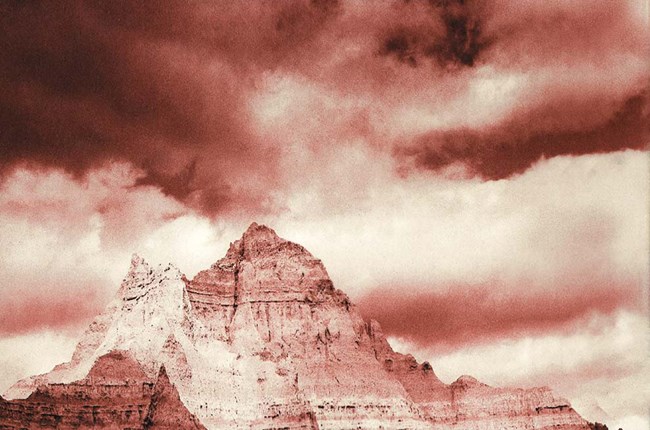 Responsibilities & Duties
The AIR will enroll as a National Park Service volunteer. The volunteer agreement will outline the AIR's duties related to the goals of the residency. Either the AIR or the coordinator may terminate the agreement at any time. The AIR works an average of 40 hours of work per week in the park or other approved locations. The AIR is responsible for all supplies and materials needed for his or her artwork. The park will provide supplies for outreach programs that take place at local schools.
Within three months after the residency, the AIR will complete and deliver the final products of the residency. Artwork from visual artists should be framed with UV protective glass and prepared for hanging before donation. Digital art forms must meet 508/504 compliance regulations.
Artwork may be accessioned into the park's permanent museum collection, used in exhibits, used for educational purposes, and/or auctioned by partner entities, at the Park's discretion. Funds raised through the sale of artwork will support the AIR program.
Amenities Provided
The park offers an apartment located in a small housing complex at park headquarters at no cost to the artist. Facilities for this program are wheelchair accessible. Housing will be either an efficiency apartment or a one bedroom apartment (depending upon availability) that is fully furnished with heat and air conditioning. No additional studio space is available. Basic cooking equipment is also provided, as well as access to the park library. Artists need to bring bedding, personal gear, food and art supplies. (Wireless internet may be available at the Visitor Center and artists may purchase service for their apartment from a local provider. Phone service is limited.)
Additionally, the park provides a reimbursement for personal expenses not to exceed $300. Reimbursable expenses include art supplies, travel, and meals. All expenses incurred above $300 are the responsibility of the artist. (The park and schools do have basic classroom art supplies for your use.)
The park provides an orientation to the park and will make a government vehicle available to artists to travel to school programs. All other transportation is the responsibility of the artist. The park provides bicycles for artists' use. All artists in residents are enrolled in the park's Volunteers In Parks (VIP) program and are covered under Worker's Compensation for any injuries incurred under the scope of their residency.
Because of the weather extremes in western South Dakota, artists should be prepared for blizzards, heat above 100 degrees Fahrenheit, high winds, and varied terrain when hiking or biking.
Program Term
Two residencies are offered per year, each for a period of four to six weeks to occur between September 15th through May 1st.
How to Apply
The application deadline is June 15th. Applications must be postmarked by the deadline. If the deadline falls on a Sunday, the deadline is extended to the next business day.

Submit:
Application from
Artists Statement - this outlines specific goals for residency
Portfolio of creative works
Resume
Portfolio Requirements
Visual Artists: Attach at least six digital images at 300 dpi. in .jpg or tif. format on labeled CD. Include a list of images with title, medium and image size (height and width). Images should show only the actual work. Backgrounds, mats or frames should not be included.
Writers: Submit no more than ten double-spaced, typewritten pages of manuscript or electronic file (12 pt. font) in either Microsoft Word or a .PDF format.
Performing Artists: Submit audio and videotapes indexed to identify five-minute segment for jury review on labeled CD in .MP3 format. Other acceptable formats include a YouTube site (or similar) with a 5 minute segment.
Mail completed applications packets to:
Artist in Residence Program
Badlands National Park
25216 Ben Reifel Road
Interior, SD 57750
Interpretive Themes
Wilderness. The Badlands Wilderness Area engages the very deepest aspects of human connection to the Badlands and mixed-grass prairies, and reflects an inherent contrast between that natural world and our modern existence.
Mixed-Grass Prairie. The Badlands National Park mixed-grass prairie ecosystem is a surviving fragment of the once expansive native sea of grass, deceptively complex and diverse, with the majority of life hidden below ground.

Fossil and Geologic Record. The paleontological and geologic records of the White River Badlands provide scientific context for understanding the dynamics of climate and the evolution of life past, present, and future.
Vast Landscapes. The Badlands vast, contrasting landscapes inspire people toappreciate the beauty and value of spectacular scenery.
Prairie Dog Colonies. The park's careful and deliberate management of the prairie dog colonies supports the continued survival of interdependent species, including the endangered Black-footed Ferret.
Science of Paleontology. Mid-19th century fossil discoveries in the Badlands were the catalyst for conducting the first major fossil explorations of the American West, initiating the modern science of paleontology and improving our understanding of the transition and origins of the North American grasslands ecosystem.
Human History. The challenging conditions encountered through time in the Badlands region dictate perseverance, adaptability and flexibility by humans to survive.
Sacred Landscape. The survival, hope and vision of the Lakota are tied to the history of western expansion, personal experience and sacred landscapes found within the prairie and Badlands formations.
Last updated: September 22, 2020