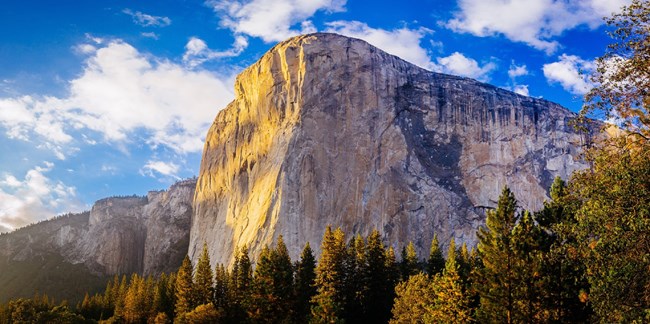 "It is by far the grandest of all the special temples of Nature I was ever permitted to enter." —John Muir

Found on the west slope of the central Sierra Nevada Mountains in California, Yosemite National Park preserves an area of outstanding scenic beauty and great wilderness value. The park represents practically all the different environments found within the Sierra Nevada, including sequoia groves, domes, valleys, polished granites, and other geological features illustrating the formation of the mountain range. It also contains numerous cultural resources.

Yosemite exhibits an exceptional glaciated landscape, including the spectacular Yosemite Valley, a 914-meter (1/2 mile) deep, glacier-carved cleft with massive sheer granite walls. These geologic features provide a scenic backdrop for mountain meadows and giant sequoia groves, resulting in a diverse landscape of exceptional natural and scenic beauty.

No other area portrays the effects of glacial action on underlying granitic domes as well as Yosemite. The most awe-inspiring of all the great rocks in the Park is El Capitan, 2,308 meters (7,569 ft) in elevation. This rock formation is the largest exposed monolith of granite in the world. Other formations such as Half Dome and Mount Watkins provide for spectacular vistas and are some of the most photographed landscapes on earth.

Since its significance was recognized by the United States Congress in the early 1860s it can be said that Yosemite's natural beauty was the impetus for the first implementation of the national park concept as we know it today.

Following the discovery of gold in California in the late 1840s, many settlers came west into the area. Hikers in the park can visit a well-preserved silver mine active from 1879 to 1890, called Golden Crown, near Bloody Canyon. The first tourists arrived around 1855. Early visitors included soldiers, artists, writers, and sightseers. Early settlers helped as guides and protected the park, as did soldiers. Between 1891 and 1913, approximately 500 African American soldiers helped guard the park and improve access to it. These "Buffalo Soldiers" played an important role in the story of the American West. The park continued to have military connections, as many of its tourist facilities hosted recovering soldiers during World War II. The Ahwahnee Hotel served as a naval hospital.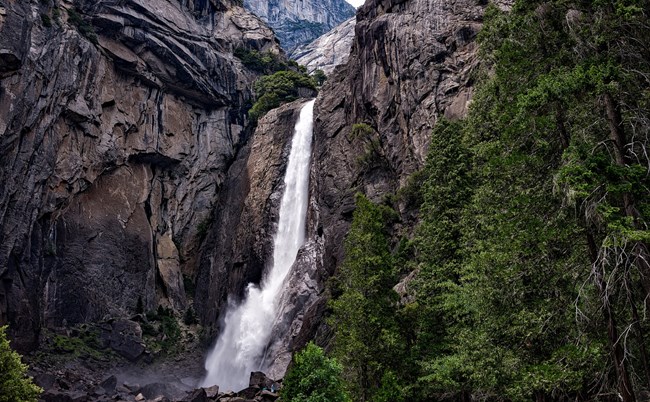 Yosemite National Park includes more that 60 listings in the National Register of Historic Places. Five of these are National Historic Landmarks -- The Wawona Hotel & Thomas Hill Studio, The Ahwahnee Hotel, LeConte Memorial Lodge, Rangers' Club, and Parsons Memorial Lodge -- all of which illustrate the development of this spectacular early national park.

The National Park Service Rustic style became a cornerstone of the National Park Service's belief that buildings should blend in with their natural surroundings and that natural settings could influence architecture. Local building materials, such as native rocks, logs, and shakes (wood shingles), were utilized to give structures in parks the feeling of having been executed by pioneer craftsmen with limited hand tools, thus making them sympathetic with their natural surroundings and with the past. Early park buildings in Yosemite reflect and influenced the emergence of the Rustic style which came to be used in national parks across the United States.

The Sierra Club built LeConte Memorial Lodge in 1903 in memory of one of its founding members, Joseph LeConte. The Lodge became Yosemite National Park's first visitor center. The first director of the National Park Service, Steven Mather, personally financed construction of the Rangers' Club in the early 1920s, an influential early example of the Rustic style. It was initially used as a residence for the first group of rangers at Yosemite. Parsons Memorial Lodge is another early Rustic style building, as is the Yosemite Museum from 1925, the first building constructed as a museum in the national park system. Its educational initiatives served as a model for parks nationwide. The museum still functions much as it was originally intended, exhibiting items such as those that reflect the Native American occupation of Yosemite Valley and its surroundings.

Yosemite is known for its historic lodgings. The Wawona Hotel, which dates from the 1870's, is the largest Victorian hotel complex in a national park and one of the few remaining in the United States with this level of integrity. The studio of famous landscape painter of the Hudson River School, Thomas Hill (1829-1908), is part of the hotel complex. Hill used the hotel pavillion as his studio painting many works of the region there. Built to accommodate affluent and influential visitors to Yosemite, The Ahwahnee Hotel is a monumental example of Rustic architecture. Wrought-iron fittings, stained-glass windows and murals in geometric Indian/Deco designs on the interior enhance the hotel's intentionally rustic atmosphere. Camp Curry offers simpler accommodations in Rustic wood frame cabins and tent cabins offering visitors an opportunity to be close to nature. The historic camp also includes a store, dining facilities, a lodge and a post office.

With spectacular scenery all around, activities in Yosemite National Park range from the relaxing -- bird watching, art, and photography -- to the more adventurous -- such as rock climbing, hiking, and biking. Other recreational options include horseback riding, fishing, and water sports. Rangers offer guided tours, events, and special activities. Visitors can explore nature and the park's cultural history at a number of locations. Yosemite Valley Visitor Center provides an orientation to the park, a movie, and brochures. Next door to the visitor center, the Yosemite Museum offers the opportunity to learn about the cultural history of the park, particularly about the Miwok and Paiute tribes.

Yosemite Park Page: https://www.nps.gov/yose/index.htm

World Heritage Information: https://whc.unesco.org/en/list/308