Article
Williwaw April-May-June 2020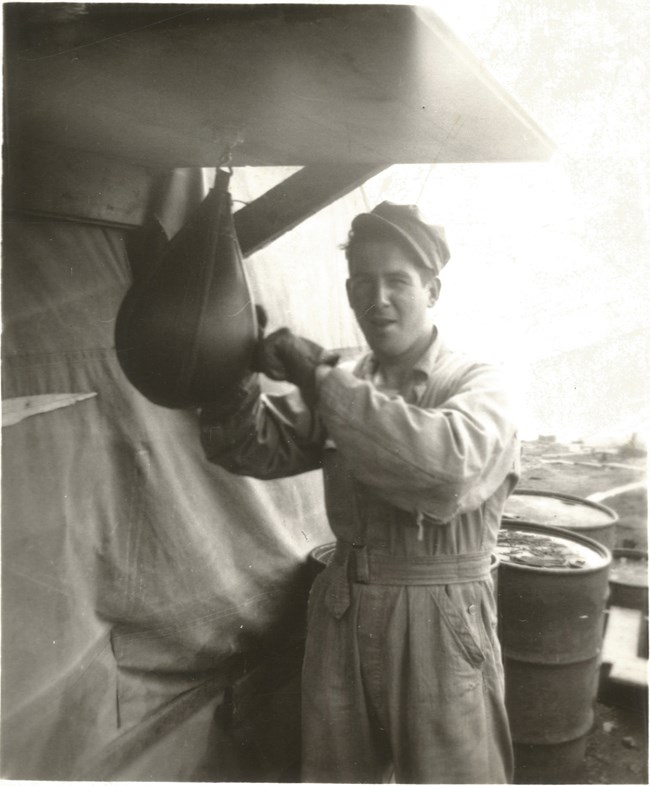 Welcome to the first issue of the new Williwaw! The newsletter was started by the late Al King, and continued by Dave Rawlings, to honor all those who served in the Aleutian Campaign of World War II, their families, and their descendants who carry on their memories. Now, we plan to continue the Williwaw as our program newsletter, available digitally and in a print version. In this first issue, editors Joshua Bell and Karen Abel tell of their own connections, through each of their grandfathers, to the Aleutian Campaign.

We welcome stories from veterans and their families! Please email us if you have a memory or story to share about the Aleutian Campaign in a future issue.

To receive an email notification of, and link to, the newest issue when it is released, please email us to subscribe. If you would like a paper copy, please let us know in your email.

You may unsubscribe at any time. We will not email you except when new issues of Williwaw are released (generally quarterly). We will not share your email address with anyone else.

--Rachel Mason, Program Manager, Aleutian Islands WWII National Historic Area
Taps
U.S. Navy
William Bernard "Bill" Thomas, 101, of Mexico Beach, FL - November 6, 2019
Charles J. Albrycht, Jr., 93, of Newington, MD - January 7, 2020
Alexius Michael "Alex" Pinkham, Jr., 95, of Anchorage, AK - January 20, 2020
Harlan Earl "Zeke" Collins, 103, of Ardmore, OK - February 13, 2020
William "Bill" Vogt, 107, of La Jolla, CA - February 29, 2020
Robert Edwin Hinsdale, 95, Adrian, MI - March 24, 2020
Doy Davis, 95, of Anderson, SC - May 1, 2020
U.S. Army
Willard "Bill" Franks, 95, of South Windsor, CT - December 4, 2019
William Roy Dover, 97, of Haleyville, AL - December 17, 2019
Frank B. Rothman, 96, of Tucson, AZ - March 23, 2020
U.S. Army Air Forces
Robert B. Hiller II, 92, of Rochester, MA - February 9, 2020
John "Jack" Joseph, 98, of Winston-Salem, NC - February 13, 2020
U.S. Marine Corps
Ernest Lawerence "Swede" Swenson, Jr., 92, of Osawatomie, KS - March 19, 2020
Finding Gramp
By Joshua Bell

It is both a pleasure and an honor to be a part of continuing the Williwaw. This publication has a long tradition of keeping alive the memories of the men and women of those who served on the Aleutian Islands during World War II. My grandfather, Vincent Bell, was one of those veterans. He served with the 58th and 11th Fighter Control Squadrons of the 11th Army Air Force from July of 1943 to November of 1945. It was his service that led me to find the Aleutian World War II National Historic Area, while researching where he served. In 2013, I began volunteering for the historic area, collecting oral histories from veterans who had found themselves assigned to that long string of islands along the Bering Sea. In 2014 and 2015, I attended reunions with a handful of his fellow veterans. Clint Goodwin, Joe Sasser, and Paul Schaughency were the first Aleutian Island veterans I had met besides my grandfather. Traveling with them and hearing their stories was an absolute treat!

In 2016, I took a temporary park ranger position with the Aleutian World War II National Historic Area. I continued to collect and share oral histories, give lectures about the campaign, and help organize the commemoration ceremonies for the 75th Anniversary of the Japanese attack on Dutch Harbor and Unalaska, as well as the 75th Anniversary of the Battle for Attu. Serving as the veterans' personal attaché during the events and sharing their stories was a privilege I will never forget. Although I spent a great deal of time with these men and getting to know them and their war stories, I did so without knowing my own connection to the Aleutian Islands nearly as well.

Tracing my Grandfather's World War II story has been a challenge, one that persists to this day. During his life, he never really talked about his experiences, except to say, "War is hell," and to rattle off the units he served in and which islands he was stationed on. Why he never talked about it was unclear. No one in the family knew about it and, by all accounts, never asked. Since high school, when I first really understood his status as a World War II veteran, questions about his service have dogged me. The dozen or so letters I found before he passed, written to his grandfather, immediately became a prized possession. They offer slivers of information about his wartime experience, but there is no complete record. His official military record, like so many, went up in flames in the 1973 fire at the National Archives military records division in Missouri. Young and curious about his service, I tried to ask him questions without badgering him into having a discussion he didn't want to have about his service. One day, his patience for just about everything ran out, and he was going to tell me what had happened. He was visibly angry and frustrated. Not sure what role I had played in bringing about his moment, I declined and told him we could talk about it another time. We never did. After his passing, we found nearly one hundred more letters between Gramp and his family and friends, dozens of pictures, some personnel records, letters of recommendation, and incomplete applications for flight school. Every piece of paper, from the envelopes and stationary, to the uncaptioned pictures and a fist full of ephemera, has been invaluable in answering questions about where Gramp was and when. Gramp's words sprawling across the pages of his letters provide some good insight into his day-to-day activity, gratitude for packages with cakes and cookies, hopes for furlough and to get into the fight, but he only once or twice comments on the war and his job.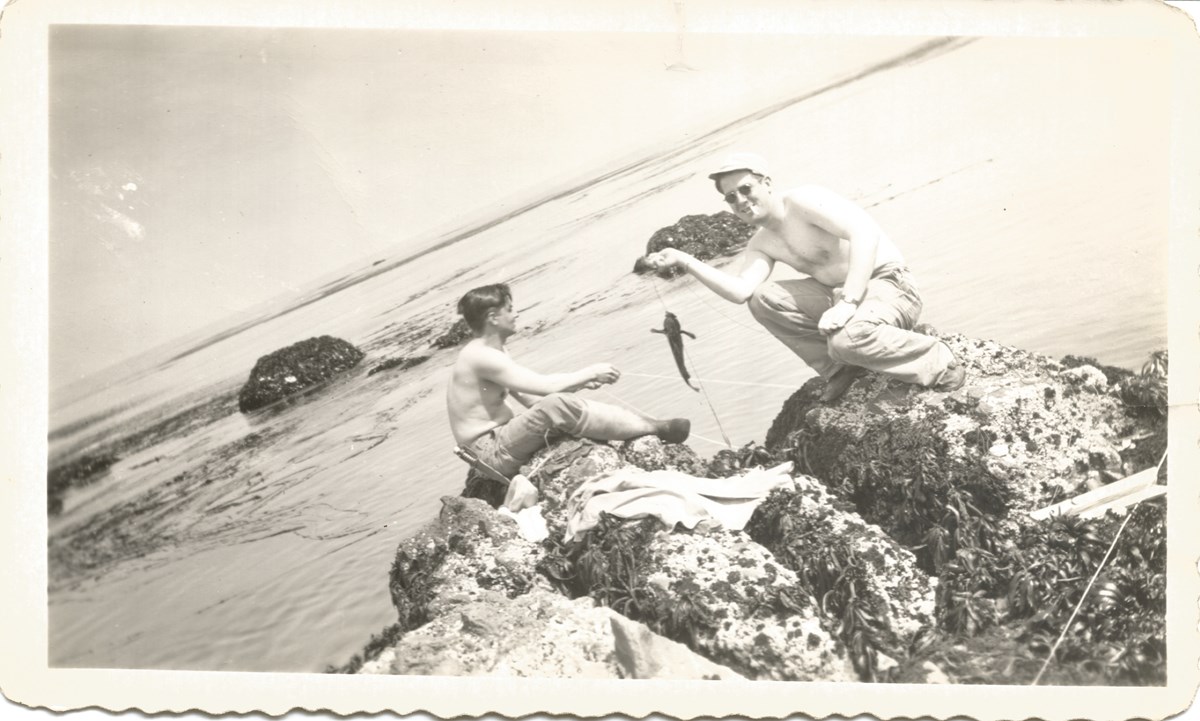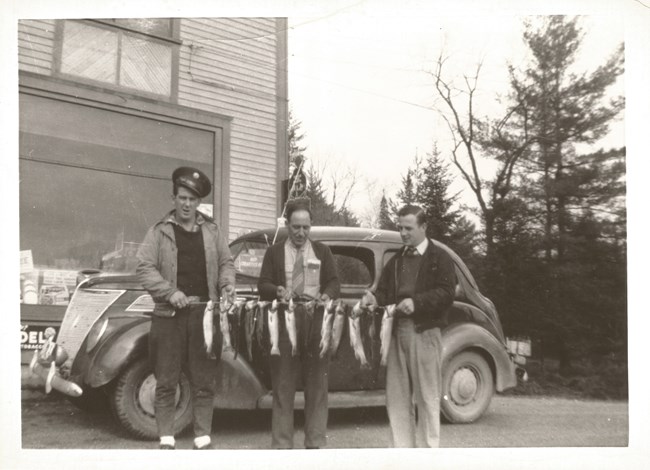 A Rough Sketch of Gramp's Service
In October of 1942, Vincent Bell, a kid from rural Vermont, enlisted in the United States Army Air Force and was shipped out, first to Fort Devens in Massachusetts and then on to Cochran Army Airfield where he trained. Gramp, it seems, wanted to be a pilot or involved in some aspect of aircraft maintenance. Writing his parents regularly, he shared his observations without getting into specifics; talking about Macon and the airfield, doing drill, commending the chow, studying aircraft identification, caring for BT-13 no. C738, taxiing planes on the flightline, and his squadron mates in the 902nd Basic Flight Training Squadron. His first flight was in a Vultee BT-13, flown by an RAF flight cadet. (During the war, General Arnold came up with a plan to train allied pilots on our airfields.) Gramp described his pilot as a "swell chap." Many of his letters reveal a young man of humor, but there are moments of longing for home, especially around Thanksgiving and Christmas of 1942. The following spring, he had absorbed "all they teach here about aircraft." He was working on the flightline and wished he could go to tech school to work on bombers or pursuit aircraft. He also wanted to visit home for "a good feed of pancakes and real Vermont Maple Syrup" because, "This sugar and water they have for pancakes here isn't any good at all and is a poor imitation of any sweetening." Furlough was granted in May of 1943. How long he was home is unknown. What is clear, from the pictures, is that he had a great deal of luck fishing!

From that point, the letters become infrequent. According to his service record, he arrived at the Aleutian Islands on board the USAT Saint Mihiel, 15 July 1943 and was assigned to the 58th Fighter Control Squadron, presumably as a replacement. The first letter home from his new duty location was dated December 4, 1943. Being home was on his mind. "You shor had a nice little gathering for Thanksgiving Dinner and glad you all enjoyed a nice time and shor wish I could have been with you all. In the meantime, I hope you all enjoy many more of those nice little gatherings." Around this time, Gramp, having earned corporal stripes, began an application to become an aviation cadet instead of working on power generators. It was increasingly clear that he wanted to be doing something different, somewhere different. "[I] shor wish they'd start drafting us back to the States or someplace where there's more action." he wrote to his Aunt Marion.

Pictures show a lighter side to Gramp's time on the Aleutian Islands. These old black and white photos show friends fooling around, playing football, having a fake snowball fight, lounging in their Quonset huts, and working on jeeps. One picture shows Gramp next to a punching bag and others show him, of course, fishing.

A reduction in grade occurred between February and March of 1944 and his application for Aviation Cadet Training was never put before the board. Writing to his Grandfather, Adino Bell, he expressed disgust, not just with the Aleutian Islands but with Congress as well: "Another winter in this hell hole, and I'll be a total wreck. A year in this area, and they ought to give a physical discharge or at least a thirty-day furlough and send a guy to some other area. Too bad all us guys can't write our congressmen…" The completion of that sentence was removed by army censors. He continued, "I can't see where a soldier is getting a square deal if he's in the fight and then has to pay for it after peace is made. I don't mean we won't pay our share because we expect to do that. But the guy that is making big dough now should be expected to pay big taxes and take the heavy part of the bills. Aren't there enough citizens in the Armed Forces to have a little say about such things? … Guess all we small guys can do is to hope and pray that everything turns out ok and that this mess will soon be over."

The last surviving letter he sent home was dated March of 1945. After that, he was reassigned to the 11th Fighter Control Squadron and eventually was either assigned to work at or attended Signal Air Warning School. My future grandmother, Rita's letters to him from later that year pick up her side of the story. In these letters it becomes clear they had been courting, perhaps before his departure for the service. He even asked her to marry him via letter. When she responded affirmatively to the proposal, Gramp sent her a money order so she could pick out her own engagement ring from a catalogue at the family's general store. He returned home in October of 1945 and married Rita on December 23, 1945.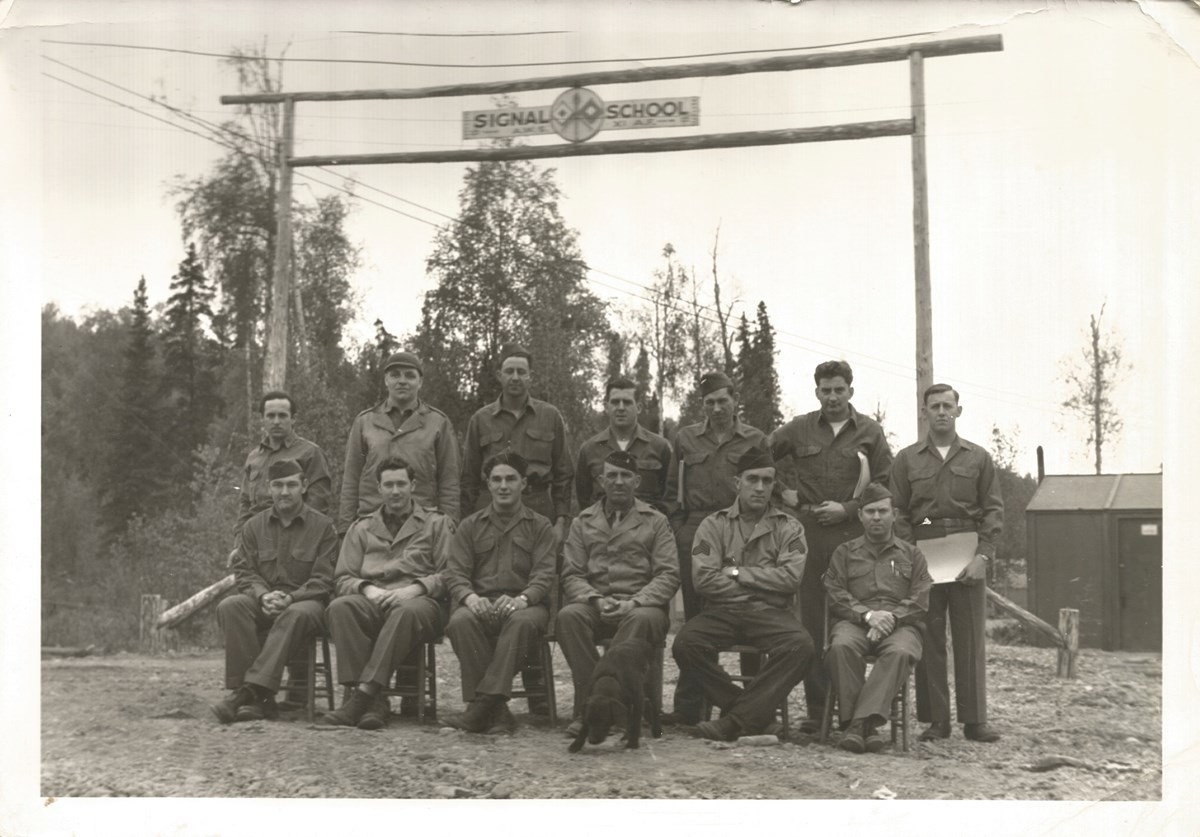 Thanks to Gramp
Years after uncovering the letters, I found a small black book. In it were the usual names and addresses of his comrades and certain young women he met along the way. It also had something else. Gramp had gone back, years later, and wrote in that book. His old shaky hand wrote: "Dynamite exploded in the fog too thick to see - 50 years ago… October 12, 1943 - Bombed and strafed by Jap[anese] 'Scary'... Columbus Day 1943 Lt. Sandy Miller shot at Jap[anese] with .45." In some ways, committing these moments is fitting, what we know is entirely the result of documents and images. I cannot possibly imagine the grief, fear, and frustration Gramp carried with him about his time in the service. Perhaps, it's a somber reminder that even in, what Studs Turkel referred to as "the good war," the just fight against authoritarianism and facism, there were very real costs - not all of them visible. I'm just glad he came home, and I got to learn about his story, even if it was in pieces.

In 2009, Gramp was buried on the 53rd anniversary of the death of his grandfather, the one he had written to from basic training and those distant islands in the Bering Sea. My grandfather couldn't have known when he wrote those letters, that 70 years later, they would have sent his grandson down history's foggy path of the Aleutian Islands during World War II.

Granddaughter on a Mission
By Karen Abel

I am thrilled to be part of continuing the legacy of Al King's creation, the Williwaw, which served as a safe place for veterans and families to share their stories with others. This newsletter has committed the last two decades to telling the stories of Aleutian Island veterans and it is a cause close to my very own heart. I am the granddaughter of WWII Aleutian Island fighter pilot, P/O Robert W. Lynch, 111(F) Squadron, Royal Canadian Air Force (RCAF). In 2012, I started a website dedicated to preserving and honoring the legacy of my grandfather and of those who served alongside him in the Aleutian Islands. Since then, I have made it my mission to retrace their wartime footsteps in an effort to tell the story. I frequently get asked – "How did a pretty young lady like yourself get started in all this?" And it really began after his passing in 1996 when we discovered all of my Papa's WWII memorabilia in his briefcase. My Papa, a fighter pilot in Alaska?? I was enthralled. The uncovering of his artifacts actually helped explain a lot of things: for one, my love and admiration of planes; and two, my strong interest in Alaska. In 2012, now living in Florida, I had my mom ship me his wartime collection and from there the work began!

But why had we never known about this? As a kid, I do recall seeing his medals on the wall and his uniform (which still fit him, by the way) hanging in the closet, but not a peep more. The challenge was that my Papa never spoke of his service, like many humble WWII vets. It was something I had to discover and piece together through the things he left behind. After doing many years of research on the war in Alaska, it is clear to me that this valuable part of North American history does not get the recognition it deserves! This is exactly why our efforts, mine and yours, are so important: so that the lessons that were learned from war are never repeated and forgotten. The veterans' stories must live on. My work is dedicated to those who tirelessly gave of themselves with unrecognized sacrifices, in the bitter cold, under the most treacherous conditions, so we could be safe on our own continent. It is my way to pay tribute to those that served so that their sacrifices no longer go unknown.

Since I started, this project of passion eight years ago, it has blossomed into something much bigger than I could have ever envisioned. I have become a Royal Canadian Air Force Associate Historian and work with the Canadian Forces on the preservation of Canadian history in Alaska. For the last three years, I have co-led WWII history expeditions through the Aleutian Islands, hiking the hallowed grounds of Attu, Kiska, Atka and Umnak. I act as a historical consultant and work closely with the Aleutian World War II National Historic Area on Aleutian Campaign related projects, including veteran reunions, museum exhibits, commemorative events and veteran relations. One of my favorite tasks of all has been meeting the veterans themselves - Hello boys!!! I also began to pursue my love of aviation by becoming actively involved in the warbird community and am a member of the EAA Warbirds and the Commemorative Air Force, with hopes of one day obtaining my private pilot's license to fly in the same skies my grandfather once did.

But most of all, what drives me to continue this mission is one particular sentiment shared by my grandfather in 1980 to a Canadian Department of Defense historian. It is an excerpt taken from the closing paragraph of a letter he wrote in response to an inquiry from the National Department of Defense Headquarters about his participation in the campaign. For me, this line clearly validates my passion about what I do. What I find even more interesting is that I did not discover this document until I was well into my project, yet somehow when I began, all I knew was that I was driven to follow my deep-rooted inclination to tell their story.

"I must say that service in the 111F Squadron is an experience I would not have missed. I feel that the Aleutian Campaign is a forgotten item in the history of the R.C.A.F. and I am happy and appreciative that you are doing something about it."

I considerate it an absolute honor and privilege to be the voice for those who are not able to tell the story themselves and for those who are no longer with us to do so. And so I write…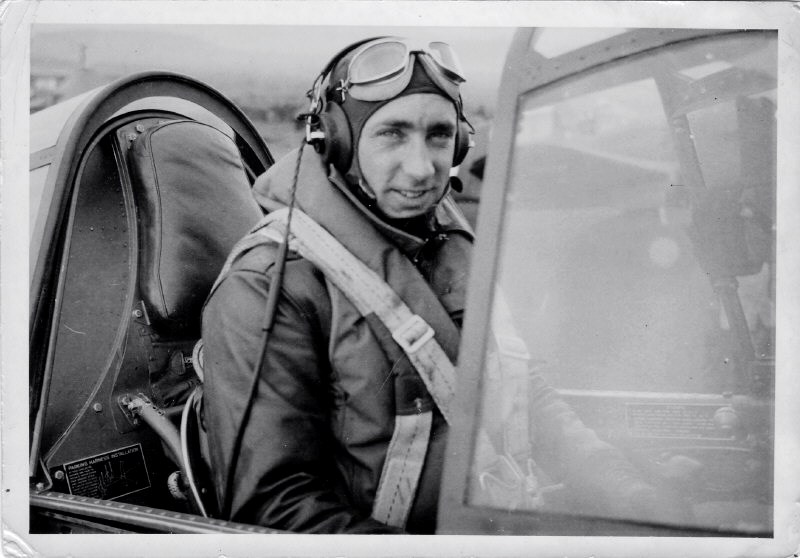 About my Papa, P/O (Pilot Officer) Robert W. Lynch, 111 (F) Squadron, RCAF

Robert Lynch was born and raised in Winnipeg, Manitoba 1916. He joined the RCAF in the early part of 1941, at the advanced age of 23, because he wanted to help the war effort and he thought he would make a good pilot. Graduating at the top of his class, his first posting was to the newly formed 111(F) Squadron. The squadron was formed specifically for the Home War Establishment as part of Western Air Command in defense of the north. In early June of 1942, the squadron was sent to Alaska and attached to the US Army Air Corps' 11th Pursuit Squadron.

From Umnak, P/O Lynch was one of four RCAF pilots chosen to fly with the Army Air Corps on the very first joint offensive over Kiska Island, September 25th, 1942. On that mission, two Japanese Rufes were shot down; the first, by the Canadian Squadron Leader Kenneth Boomer and the second by AAF's Col. John (Jack) Chennault, son of famous Gen. Claire Chennault. They were all awarded American Air medals for their efforts. During the last part of the campaign, Lynch would be tasked with teaching the squadron newcomers the nuances of flying in the Aleutians. Once the campaign ended, he was posted to flight instructor training school and began preparing other young fliers for the European Theater. This posting was lucky for him, as his squadron was sent off to Europe, re-designated as the 440 (FB) Squadron, and sadly, 23 of its 31 pilots never lived to see the end of the conflict.

Lynch retired from Air Canada, still serving under his Aleutian Wing Commander Gordon McGregor, who went on to become the very first President of Air Canada. Although Lynch survived the war, he never spoke of his experience. It was not until his passing in 1996 that boxes of documents, photos and flight logs were discovered. It was obvious by those papers, though, that he was proud of his service. One comment in particular summed up his Aleutian experience:

"Morale in the squadron was always high because we were a proud group with good officers and excellent men."

For more information about what Karen Abel does visit: www.FloridaBeachesToTheBeringSea.com or visit her page on Facebook.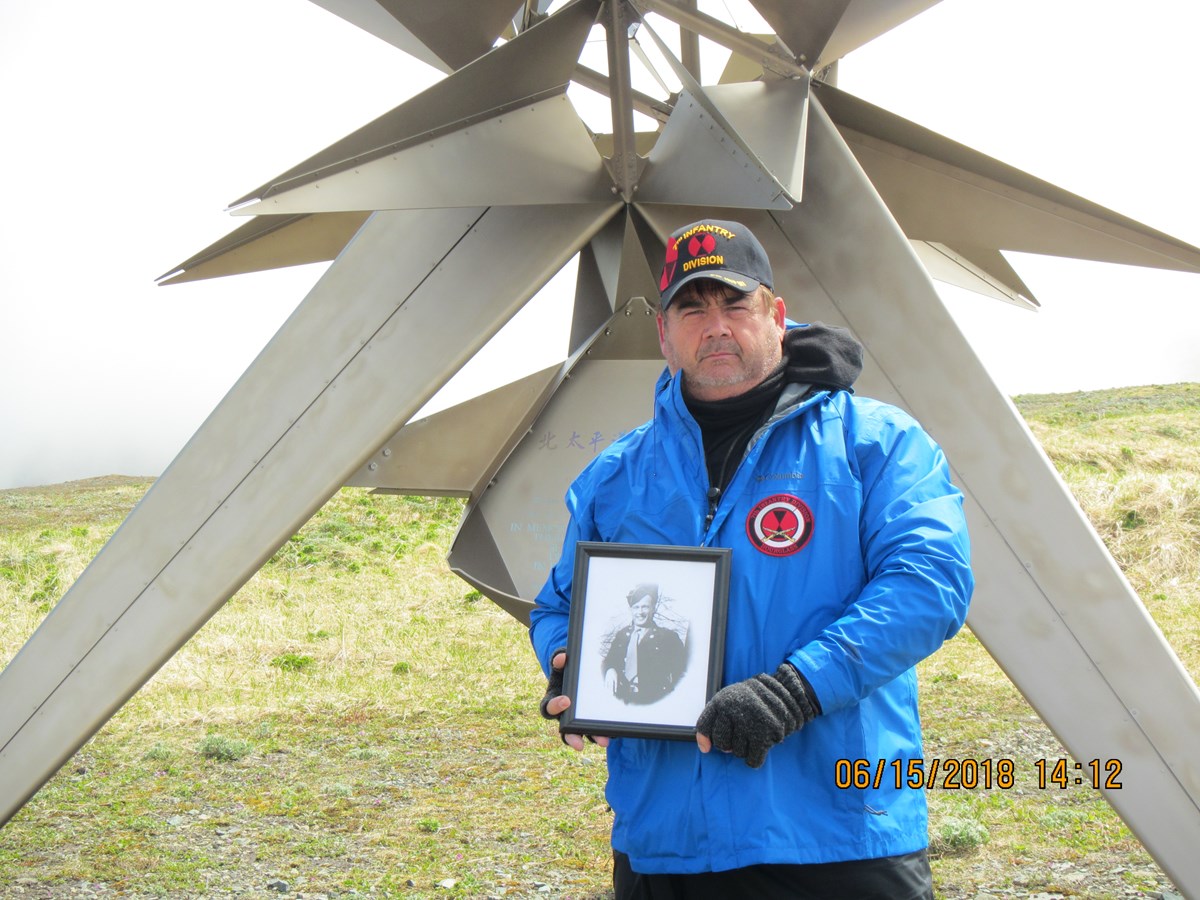 Milton Amundson, Army 7th Infantry
By Karen Abel

In 2017 Peter Amundson, Mayor of Arcadia, California set forth on a mission to visit one of the islands his father Milton served on during the war: Attu. Milton, like most heroes, would never talk much about his war experiences, but when he saw his son Peter playing with army men and plastic landing crafts, he would sometimes open up.

Peter's father Milton Amundson served with the Army's 7th Infantry Division. He joined the Army in 1940, and trained in General Patton's war games in the desert. From the desert his unit was sent to Attu.

Milton Clare Amundson was born in Ridgeland, Wisconsin on October 26, 1918 to Peter and Edith Amundson. His father was away fighting in World War I when Milt was born. No one knows where Edith came up with Milton's name. He was an only child.

Milt grew up on a dairy farm, but his heart was not in Wisconsin or farming. When he finished high school, not waiting for graduation, he rode railcars to California. He had a bed roll he carried and took work wherever he could.

He eventually found a job at Lockheed Aircraft in Burbank, California. He was working in Logistics, sending planes overseas as part of the Lend Lease program. He later commented that he was sitting in a swivel chair sending orders abroad.

With America inching towards war, a peacetime draft was initiated. It was a one-year commitment. Milton could have been deferred due to his duties at Lockheed, but he felt the year would do him good. Off to Fort Ord, CA he went.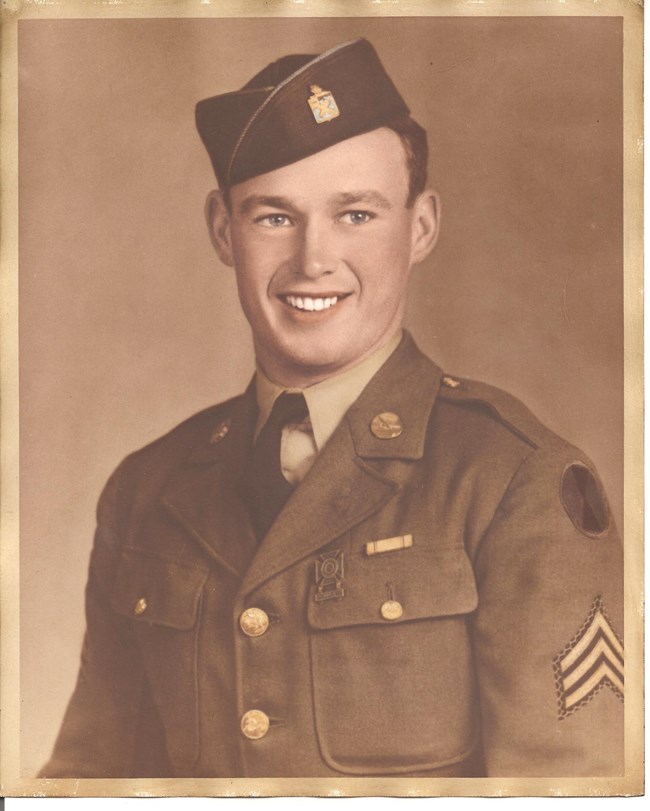 Farmboy Goes to War
In reading Milt's letters he sent home to his folks during his service, it sounds like it was a boring time, initially. His one-year draft was coming to a close and he looked forward to returning to civilian life. Just before being released, on December 7, 1941 the bombing of Pearl Harbor changed everything. His next letter home spoke about being on patrol along the California coast, looking for invasion. He was in the Army for the next three and a half years.

The 7th division was initially a mechanical army. They went to war games against General George S. Patton in the desert. Patton was sent to North Africa, and the 7th was sent to fight in the Aleutian Islands, Alaska. Shortly after Pearl Harbor, the Japanese invaded Midway Island, Attu, and Kiska. Clad in their desert attire, the US Army was off to Alaska.

The role of the 7th had changed. Tanks and trucks were taken away. They became a beach assault division. Milton told his son about landing on Attu and making haste to find a dead enemy soldier and taking his boots. Most of the GI's were from California; he was from Wisconsin and knew the importance of taking care of his feet. Unlike the Americans, the Japanese were well prepared for the harsh climate of Attu. The battle for Attu was one of the bloodiest battles of the Pacific Theater; only Iwo Jima was worse. Lessons learned at Attu would aid the landings in Normandy, France a year later. Milt tried to tell his parents where he was, but letters were censored. The first letter home he signed Milton A Amundson, the second Milton T Amundson, and so on to spell the word "Attu." His parents did not catch on and none of the letters were in his parent's possession. It's doubtful the letters ever made it home.

Some of the stories he did tell his son were about the routine of sitting offshore in a ship and watching what appeared to be total destruction of an island. When they came ashore, in the landing craft, the Japanese would swarm out of their tunnels like ants. As a go-getter, Milt initially had a BAR (Browning Automatic Rifle). It was a great weapon, but the weight of the gun and the rounds of ammunition were a little too much for him. He preferred his colt .45 and a 30-caliber carbine rifle. He dreaded the Japanese sharpshooters. They would tie themselves up in a palm tree and pick off many American soldiers who had no idea where the fire was coming from.
From the Arctic to the Tropics
From the Territory of Alaska, Milton was sent to the Territory of Hawaii where he would undergo jungle training. In his letters home, he wrote about wanting to become the toughest of the tough. He volunteered for Army Ranger training and eventually became an Army Ranger instructor. Hawaii would become his base, as his unit jumped off there for Kwajalein and points in the Philippines. Milton would say that he learned how to use the other person's weight and aggression against them. He had learned deadly techniques that you only use in a situation where you needed to kill your opponent.

Men who fought in battle create a special bond. Jose Ponce, who often walked point, was such a person. Ponce would eventually work for Milt many times over the years. Milt often mentioned a buddy called Gum Linger or Old Norwegian. Milton said they would talk Norwegian over the radios so the Japanese would not know what they were saying.

Pete said: "A few years ago, I went to Oahu, Hawaii to retrace Milton's steps. I was led to Scofield Barracks. I asked the curator of the Tropic Lightning Museum where my dad would have done his Ranger training. He responded that Rangers were never on Hawaii. He then did a quick search, and told me not only were Rangers training on Hawaii, but that my dad likely had seen the very worst of the Pacific Theater."

Milton turned down Officers Training at least twice. He had applied to the Army Air Corps, but transfers were discontinued. He was released from the Pacific and sent to Fort Benning, Georgia for OTS (Officer Training School). On one of his leaves, he went to Birmingham, Alabama and met a gal, Mary, who worked at a steakhouse. Milt had sent money home during the war, and asked his folks to send him some to buy a car. Six months later he was relieved from the service, as he had served enough years. Upon being released, he found Mary, said he was going to California, and wanted to know if she wanted to come along. She said yes, they were married, and they traveled to Wisconsin en route to California. His father offered to build him a house on the farm, and that was fine with Mary, but Milt wanted to return to California.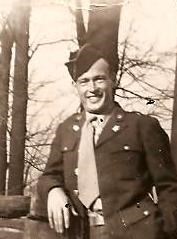 Back to Civilian Life
Milt returned to Lockheed to get his job back, as promised. He was unable to do so. He eventually purchased a truck. (Pete still has that 1946 Studebaker.) He started Milton's Express Inc., a refrigerated trucking company serving Southern California. He hired many of his Army buddies to work for him, and operated Milton's Express until his passing in 1973. Early post-war years were tough, but the midwestern farm boy and the southern belle never complained, partially because they knew no better. He was very generous in the second half his life. He always appreciated the help and jobs people gave him as a youth, traveling to California by railcar. Mary wanted to go to Hawaii for their 25th anniversary, but he did not. Later Milton's son realized that for his father, islands like Hawaii only brought back bad memories. Late in her life, Mary spoke of the early years of marriage when Milt would wake up often with wartime nightmares. After his death, Mary never remarried. They had three children together. He never forgot his heartland values and character, and was forever a patriot. He was a man's man, one of America's Greatest Generation.

Author's note: One of the things I enjoy most about leading WWII Historical Expeditions through the Aleutian Islands is the honor of sharing with family members the wartime footsteps of their ancestor, father or grandfather. Thank you, Peter, for sharing your father's journey with us, and thank you, Milton Amundson, for your service.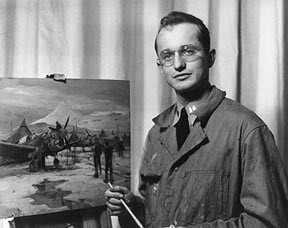 Bill Draper – Brushes with War
By Joshua Bell

William Franklin "Bill" Draper was born in Hopedale, Massachusetts to a family of privilege and position. As the inventors of Draper textile looms, the family was well connected to the commonwealth's elites. Befitting their status, they summered on Cape Cod with the cream of Massachusetts' high society. During those lazy summer days, the family's children busied themselves roughhousing with the neighborhood children, sailing, and playing a variety of sports.

Bill was different. Quiet, unassuming, and quite nearsighted, he preferred to while away his summer days painting and playing the piano away from the incessant teasing of the other children. His mother encouraged Bill to pursue his interests. If a Draper was going to do something, they were going to be among the best. Music and painting lessons soon became a regular part of Bill's life.

Draper's father had attended Yale and the family's status all but ensured that he was headed to an Ivy League institution. In the mid-1930s he enrolled in Harvard University to study art. He continued to play piano in the Gold Coast Orchestra and in Harvard's instrument club, but his real joy came from playing in area nightclubs. In his sophomore year, however, a problem developed with his wrists. They cramped up after playing only a few measures. It was incredibly painful. It also cemented the reality that he would never play professionally. Later that year, Draper dropped out of Harvard and headed off to Europe, where he studied, up-close and in-person, the art he had spent hours looking at in books. From there, he completed additional studies in New York, before moving to Boston. There, he worked out of the Fenway Studios, where he painted portraits.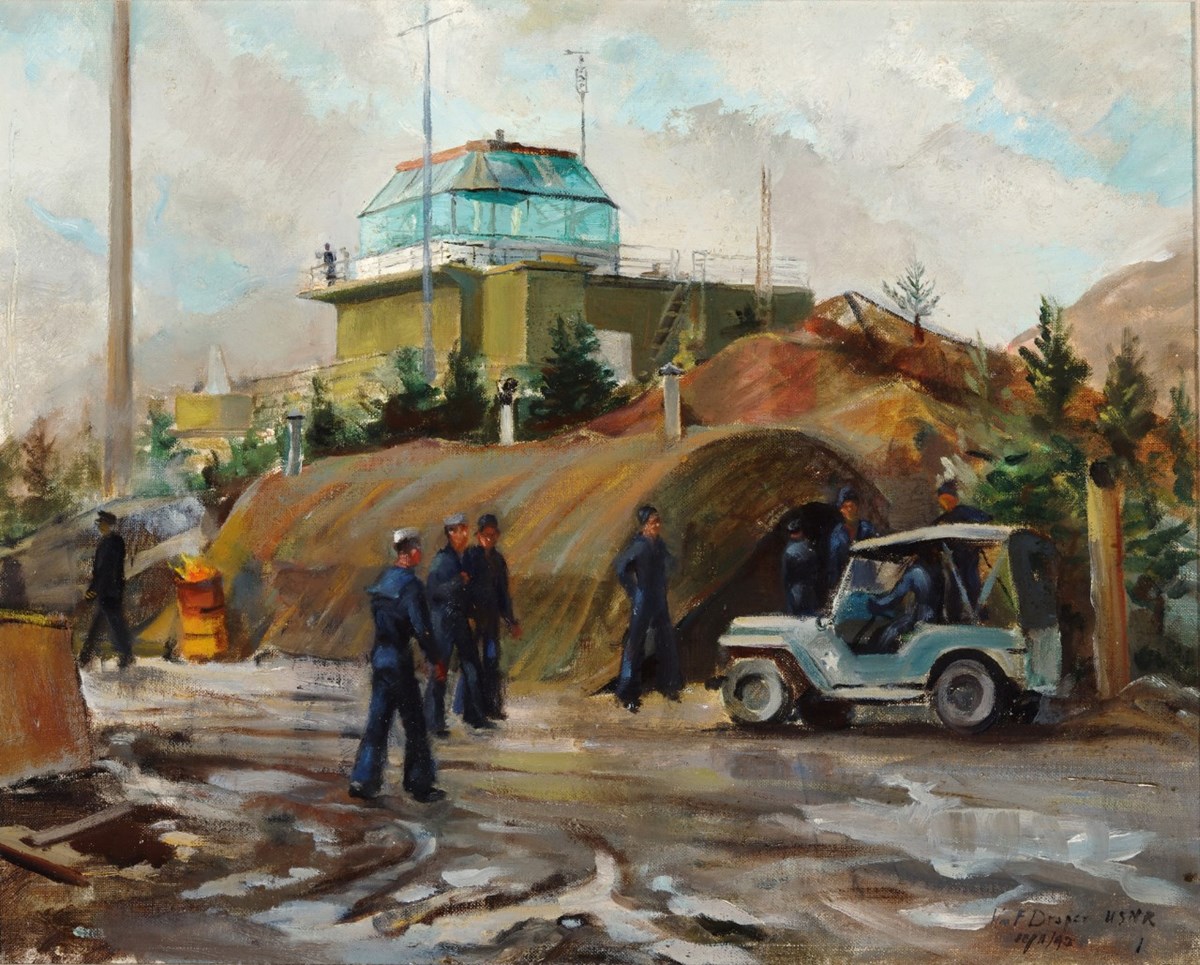 Art and War
In the days following the Japanese attack on Pearl Harbor, Draper tried to volunteer to serve in uniform but was rejected due to his nearsightedness. A few months later, he returned to the Boston Navy Yard headquarters and offered his services as a volunteer artist. The Navy put him to work painting and drawing. One major task was to draw submarine wakes at different depths for training manuals, so sailors and airmen could tell where and how deep a submarine was by the shape of the waves it left behind. He also secured permission to paint various scenes around the navy yard; workers in the foundry, destroyers, and cruisers. All of these works were sent off to Washington.

Much to Draper's surprise, he was given a commission as a lieutenant (junior grade). The local institution responsible for hosting naval officer training was none other than his almost-alma mater, Harvard. The first day of training was going swimmingly! Cadets, looking smart in their uniforms, marched from class to class. Midway through his first day, an officer entered the classroom where he was. "Is student officer Draper present?" Responding in the affirmative, the officer continued with some unsettling news. "Oh, you're being withdrawn from school. You're wanted in the front office at once." Draper was shocked! Upon reaching the office, Draper was informed that he needed to pack his things because he was headed to Washington, DC. There, he spent two weeks with the combat operations team before being deployed to the Aleutian Islands. It was June 1942, not long after Dutch Harbor and Attu had been attacked.


Draper's assignment was to an elite group. Men in its ranks were sent all over the world and operated, for the most part, autonomously. They were embedded with units that fought in every theater of the Second World War. They had the luxury of selecting their own military equipment, but it all fell under the same category: art supplies. The elite group to which they belonged? Combat Artists. Their orders were clear, "Express, if you can, realistically, or symbolically, the essence of war."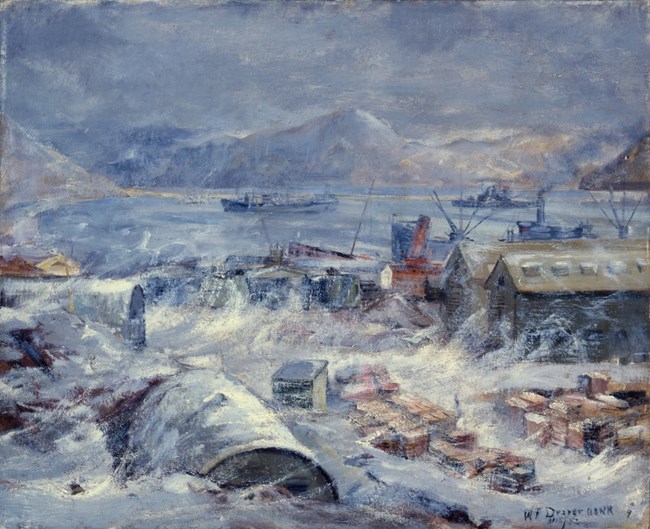 Painting in the Aleutian Islands
Landing at Kodiak, Draper set to work painting what he saw. While a photograph captures everything in the frame, the artist has control over what makes it onto his canvas. Top secret details can be left out. Draper learned the value of this when he set to work on one of his first paintings. The odd sight of a man with an easel, canvas, and box of paints quickly attracted the attention of the local Marine military police. He was immediately accused of being a spy and placed under arrest. It took some time, but he eventually convinced his captors that he was, in fact, on their side and that he was following his orders. The two Marines who detained him were rightly concerned. He was, after all, painting a very sensitive piece of equipment: the airbase's radar station.

Draper's journey along the Aleutian Islands was filled with planes and troopships, many of which he painted. He quickly learned about the challenges created by the weather patterns in the Aleutian Islands. While painting a scene of Dutch Harbor, a williwaw came out of nowhere and carried his canvas along the tundra. Draper chased after it. The winds eventually died down and the painting came to rest on a wood pile, where he recovered it. The painting had been damaged by the wind, but Draper liked it and submitted it as one of the paintings due to the War Department.

In January of 1943, Draper's orders took him to Amchitka onboard the USS Arthur Middleton. The weather, not surprisingly, was uncooperative and threatened the safety of those onboard the ship. Just off the shore, all nonessential personnel were ordered to abandon ship first, Draper among them. Just because he had orders from the Navy Department did not mean that everyone understood what he was up to. "I had my paint box, and they had ropes going down to the landing boats to go in. This colonel in the Army said, 'What's that?' I said, 'It's a paint box. I'm an official combat artist.' He went running down the deck saying, 'My God! what next!'" The Arthur Middleton, which had picked up survivors from the USS Worden, ran aground.

Winter conditions in Amchitka were vicious. Low on supplies and without trees to burn for warmth, Draper recalled soldiers pulling down crosses marking Aleutian graves and burning them for warmth. The fight to stay warm on the freezing island was punctuated by regular Japanese attacks on the Americans as they worked to complete an airfield. The day after it was completed, "Pontoon Joes [Japanese aircraft] came over. Our planes flew up – the Japanese of course didn't expect any American planes – and we shot them all down. Which was very exciting," he reminisced.

Draper's presence on the Aleutian Islands ended sometime in early 1943. He was ordered back to Washington and then to Pearl Harbor. In that time, he painted portraits of Admirals Nimitz and Halsey. From there, he was ordered to the South Pacific to capture images of the fierce fighting that took place as the Allies got closer and closer to the Japanese home islands.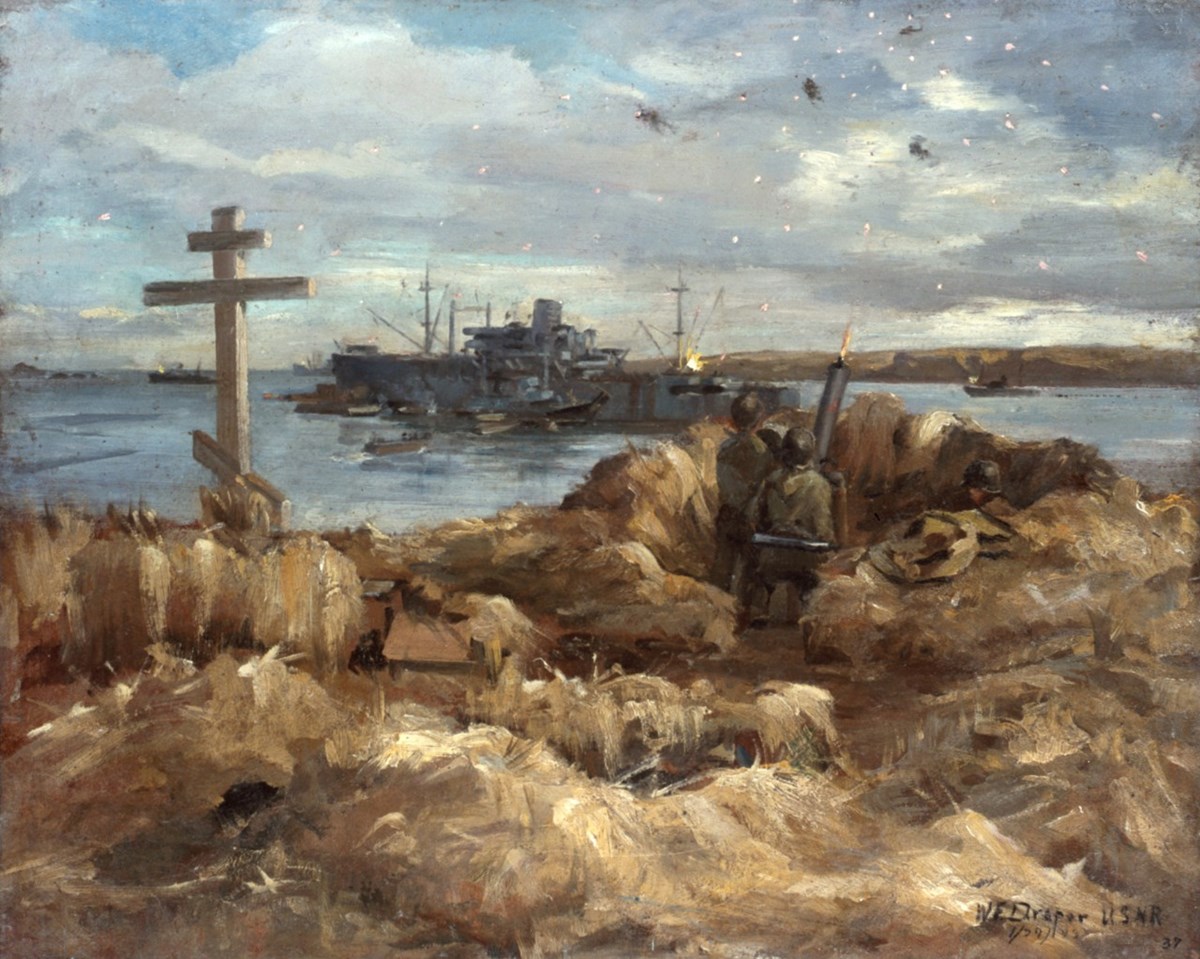 Art After World War II
Throughout the war, works completed by combat artists were returned to their appropriate headquarters. Used to help sell war bonds and to give Americans a taste of what the war was like, the original paintings were hung in art galleries and museums around the country. Reproductions were printed and made available to hang in storefronts. Some works, including Draper's, were printed in National Geographic. After the war, Draper returned to painting in New York City. He was commissioned to paint the presidential portraits of John F. Kennedy and Richard M. Nixon. Today, most of Draper's original works from his time in the service are housed at the Naval History and Heritage Command in Washington, DC.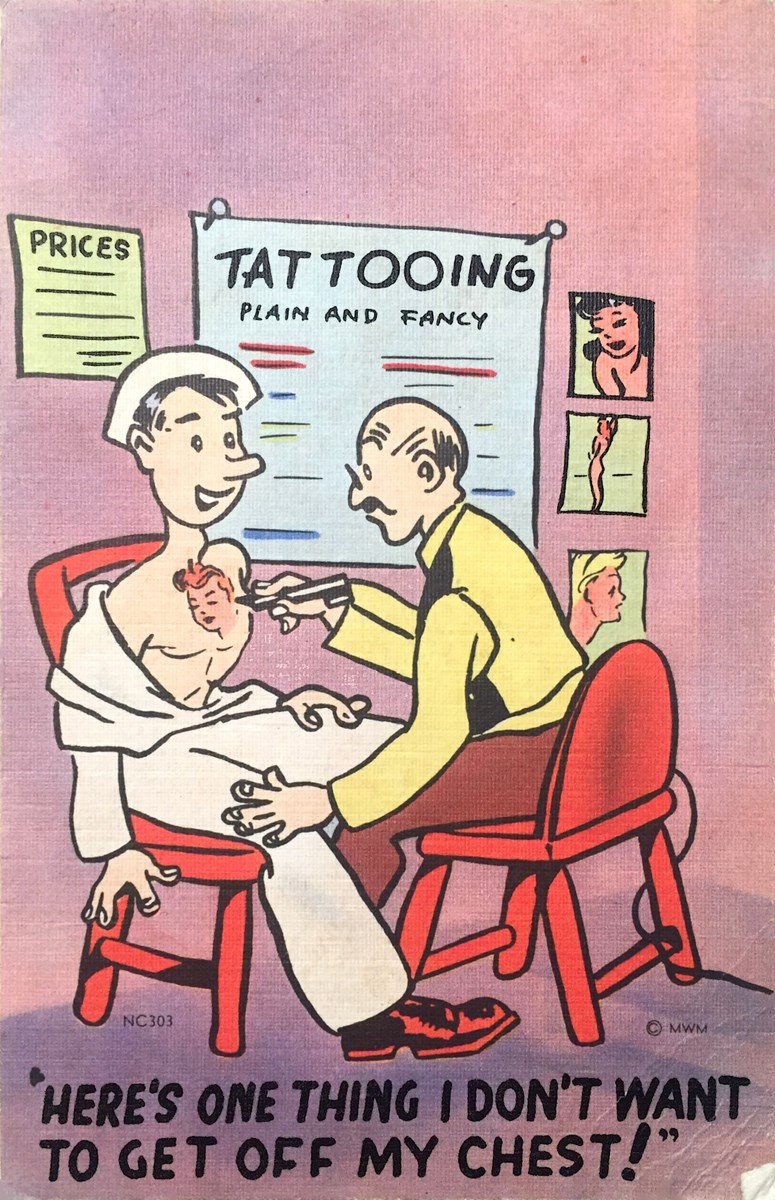 Last updated: June 2, 2020