The Wetlands of the National Park Service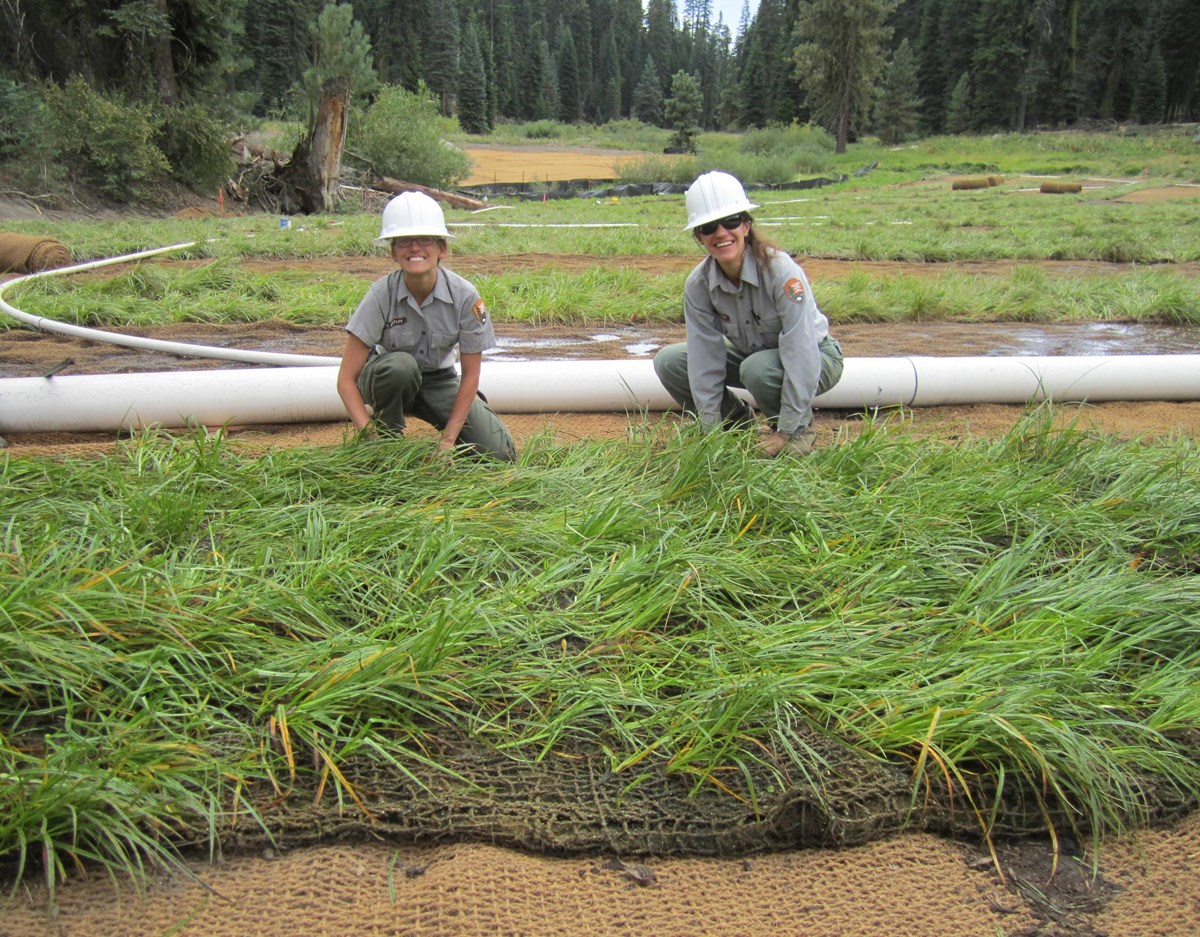 People all over the world celebrate February 2 as World Wetlands Day. You may not think about wetlands very often, but these links between land and water serve crucial functions in our natural and urban environments.
What is a wetland?
Wetlands include areas where water is present at or near the ground surface for much of the year. Often the image of a bog or swamp comes to mind. Basically, there are two types of wetlands: tidal wetlands that run along coastlines and non-tidal wetlands that occur in inland areas. The more than 400 units of the National Park Service (NPS) protect and conserve many different types of wetlands.
Lassen Volcanic National Park contains healthy examples of peatlands, and Indiana Dunes National Lakeshore houses marshes between the sand dunes; both are great examples of non-tidal wetlands. If you're looking for tidal wetlands, then the mangrove swamps at Everglades National Park or the salt marshes at Colonial National Historical Park will fit the bill. But this is just the beginning—many more types of wetlands exist throughout the NPS.
Why are wetlands important?
Wetlands do so much for our natural and urban areas! They improve water quality by acting as natural water purifiers. They act as natural barriers to coastal erosion and flooding, thereby reducing damage from major storms. They lessen the risk of flash floods. They give all types of organisms ideal places to live and thrive. And they provide recreational and educational opportunities for park visitors. In short, we need wetlands for a healthy, productive environment.
But, unfortunately, wetlands face serious threats, like pollution, drainage ditches, and exotic plants and animals, for example. In the late 1700s, about 221 million acres of wetlands existed in the continental U.S. By 1990, less than half of the acres of wetlands still remained.
So, how does the National Park Service protect wetlands?
In the 1990s, the NPS instituted a "no-net-loss of wetlands" policy. So for every 1 acre of wetlands damaged or destroyed by construction or other activity, at least 1 acre of wetlands must be restored.
Several recent projects clearly show how NPS staff work to restore wetlands:
Snake River Gravel Mine Restoration at John D. Rockefeller Jr. Memorial Parkway - 60 acres of waste piles from a closed gravel mine have been transformed into sedge meadows, willow flats, stream channels, oxbow ponds, and upland features.
Halstead Meadow at Sequoia National Park - The 21-acre wet meadow was restored after 100 years worth of damage caused by livestock grazing and highway construction that channelized flows and dried the meadow.
Coastal Wetland Restoration on Santa Cruz Island, Channel Islands National Park - Staff excavated 10,000 cubic yards of fill and planted more than 15,000 native wetland plants to return a coastal wetland system on the island to its pre-disturbance state.
Glorieta Creek Wetland-Riparian Restoration at Pecos National Historical Park - After mining, ranching, and reservoirs completely changed the landscape, a riparian-wetland area was restored by excavating 30,000 cubic yards of fill material and planting more than 11,000 trees, grasses, and other wetland plants.
Restoration of the Core Battlefield at Palo Alto Battlefield National Historical Park - Thousands of gulf cordgrass seedlings—the dominant plant species of the area—have been planted to restore the wet prairie where the battle occurred. This winter, drainage ditches and stock ponds will be filled and artificial levees will be removed to return historic flood channels called "resacas" to their appearance and function at the time of the battle.
Wet Pine Savanna Habitat Restoration at Moores Creek National Battlefield - A wetland site that hosted a Revolutionary War battle was drained by landowners 100 years later, converting it to dry meadow and woodland. Now, regular prescribed burns, plugging a manmade ditch, and planting 25,000 native wetland plants are rejuvenating the native wet pine savanna.
Read more about all of these wetlands restoration projects in the National Park Service.
You can help protect wetlands!
One of the best ways to get involved with wetlands protection is to spend time in wetlands and learn more about them. The chances are high that there are natural wetlands near you that you can visit. This is a great way to #FindYourPark. Learn more about wetlands in national parks and how you can get involved in protecting them.
Last updated: February 2, 2017