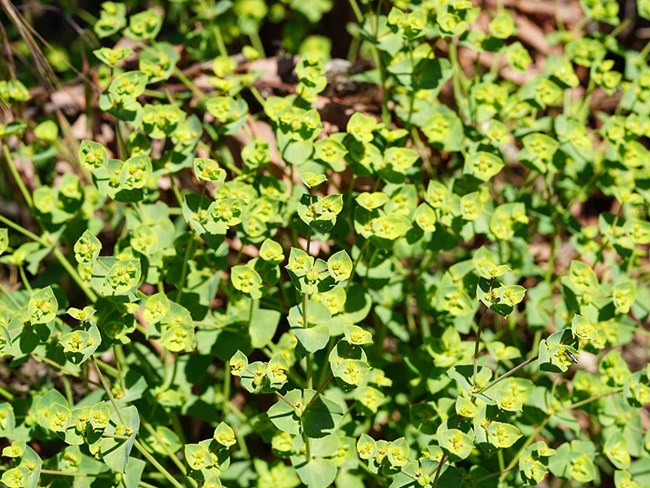 October 2017 - Populations of an aggressive and toxic invasive plant have been exploding in Southern California over the last decade. Known as carnation spurge (Euphorbia terracina), the plant is native to Europe and a fairly recent California arrival. It started colonizing disturbed coastal sites in the early to mid-1980s. The first reports of it in the Santa Monica Mountains National Recreation Area are from Solstice Canyon in 1987.
How does aggression manifest itself in a plant? In the case of carnation spurge, fast growth and seed capsules that eject huge numbers of seeds are just a start. It tolerates all kinds of conditions, from hot and dry to cool and wet. Since its milky sap is toxic and tough to digest, it also avoids being eaten by local wildlife. On top of that, it produces chemicals that curb the growth of other nearby plants, giving itself a competitive advantage. These qualities allow it to form large, dense monocultures, to the detriment of native plants and wildlife.
Still, ecologists noted that carnation spurge does seem to have a weakness. The areas it takes over have already been disturbed, if only mildly, by past grazing, fire, or other forces, but it doesn't get far in areas of undisturbed native vegetation. At Solstice Canyon, park staff, students, and volunteers were able to pull enough carnation spurge over the course of several years to give native plantings a chance to get established. Sure enough, they found that restored native vegetation is doing an impressive job of keeping carnation spurge at bay.