Field Trips
Ecohelpers Service Learning Program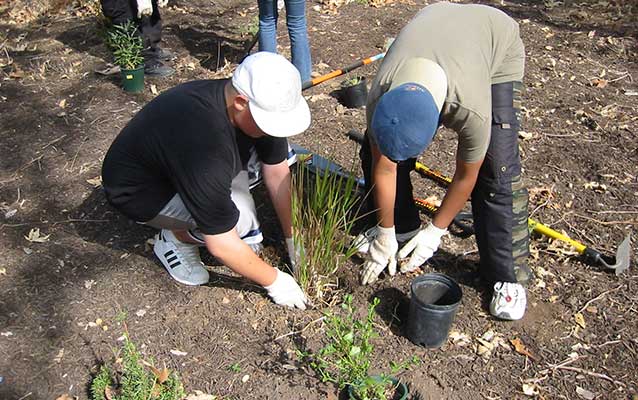 Description
We will begin accepting applications for the upcoming 2015-2016 school year starting on June 1, 2015. We will plan on confirming dates starting in August. Please note that we have a wait list from this past school year and teachers on this list will have priority for programs. Thank you for your interest in our programs.
The EcoHelpers program is curriculum-based and focuses on science principles learned through hands-on restoration activities. There are two versions of the program. 
Planting Program: Offered January, February, March, and April. This program focuses on removing non-native invasive plants and restoring native plants.
Crayfish Removal Program: Offered November, December, May, and June. This program focuses on removing non-native invasive crayfish from our local streams.
Both programs will improve the habitat for wildlife in the Santa Monica Mountains. Students will understand that invasive plants and animals can damage the natural communities that produce food and shelter to sustain native wildlife. Students will recognize that improving natural communities can improve native habitats, food chains, and the local food web.
2015-2016 School Year Application
Contact
Santa Monica Mountains Education Program Staff
805 370-2348 or 805 370-2314
Details
Subject:

Biology: Animals, Biology: Plants, Civic Engagement, Climate, Climate Change, Community, Conservation, Earth Science, Ecology, Environment, Fire Ecology, Landscapes, Planning/Development, Public Policy, Wildlife Biology, Wildlife Management

National/State Standards:

California Benchmarks for Biology/Life Sciences: Ecology, Language Arts and History/Social Science: Historical Interpretation and Los Angeles Unified School District's Service Learning requirements for Graduation.

type:

Field Trips