One of only 42 All American Roads in the nation, this 500-mile route connects Lassen Volcanic National Park, Lava Beds National Monument, Tule Lake National Monument, and Crater Lake National Park. The scenic byway also connects state parks, wildlife refuges, national forests, and numerous mountain communities across a dramatic, volcanic landscape.

The VLSB is divided into ten sections that progress from northern California to Southern Oregon. View a map of the entire byway at the bottom of this page, view an interactive map on the Sierra Nevada GeoToursim website, or view sectional maps and decriptions below.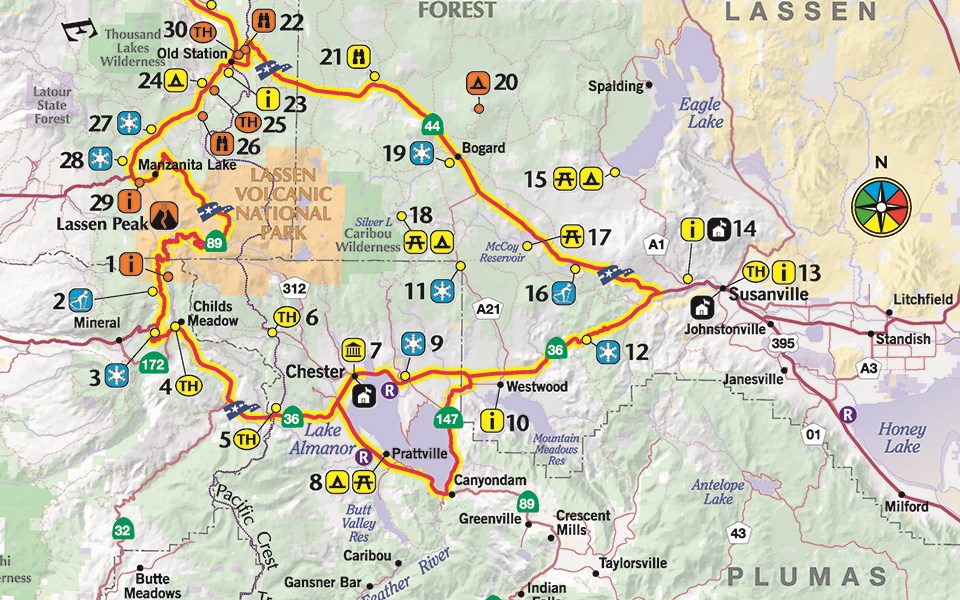 Section 1 - Highway 36: Mineral to Chester
29 miles one-way. Framed by towering forests of cedar and fir trees, this passage begins at the Lassen Volcanic National Park (LVNP) and ends in Chester.
Lassen Volcanic National Park & Kohm Yah-mah-nee Visitor Center
Exhibits and displays will enhance your understanding of the volcanic wonders and historic events of Lassen Volcanic National Park where all 4 types of volcanoes of the world can be seen.
McGowan Cross-country Ski Trail
Enjoy 10 miles of trails for beginning and advanced skiers with views of Lassen Peak.
Morgan Summit Snowmobile Park
This area offers 77 miles of groomed snowmobile trails and doubles as a mountain biking trail in the summer.
Spencer Meadows National Recreational Trail
This 6-mile scenic trail follows meadows, tall timber, flowing creeks, and links up with the LVNP trail system.
Pacific Crest National Scenic Trail (PCT)
A treasure among America's scenic trails, the PCT has several access points along the Byway and spans 2,650 miles from Mexico to Canada. Also enjoy Collins Pine Company's Park 40" interpretive trail in this same location.
Pacific Crest National Trail at Domingo Springs
Running 7 miles along lush greenery, this trail traverses an area the Maidu Indians referred to as "the center of the universe" and goes LNVP.
Chester Historic District
This town was originally established as a logging and sawmill community.
A.
Collins Pine Museum
: In a building constructed to look like a sawmill, view exhibits on lumber grades, sawmilling, and sustainable forest management.
B.
Collins Pine Nature Trail
: This takes you through 50 acres of second growth woodland with grassy flood plains and beaver ponds.
C.
Chester Library & Museum
: View displays of dairy farming, logging, gold mining, and Native American artifacts.
Section 2 - Highways 36, 89, and 147 around Lake Almanor
33-miles. Beginning in Chester, this driving loop will take you around the recreational paradise of Lake Almanor
8. Lake Almanor
A. The Almanor Recreation Area offers camping, swimming, fishing, boating, bird watching, and horseback riding.
B. Lake Almanor Recreation Trail: this 11-mile paved, non-motorized trail travels the west side of Lake Almanor through mixed conifer forests with views of Lassen Peak and Dyer Mountain.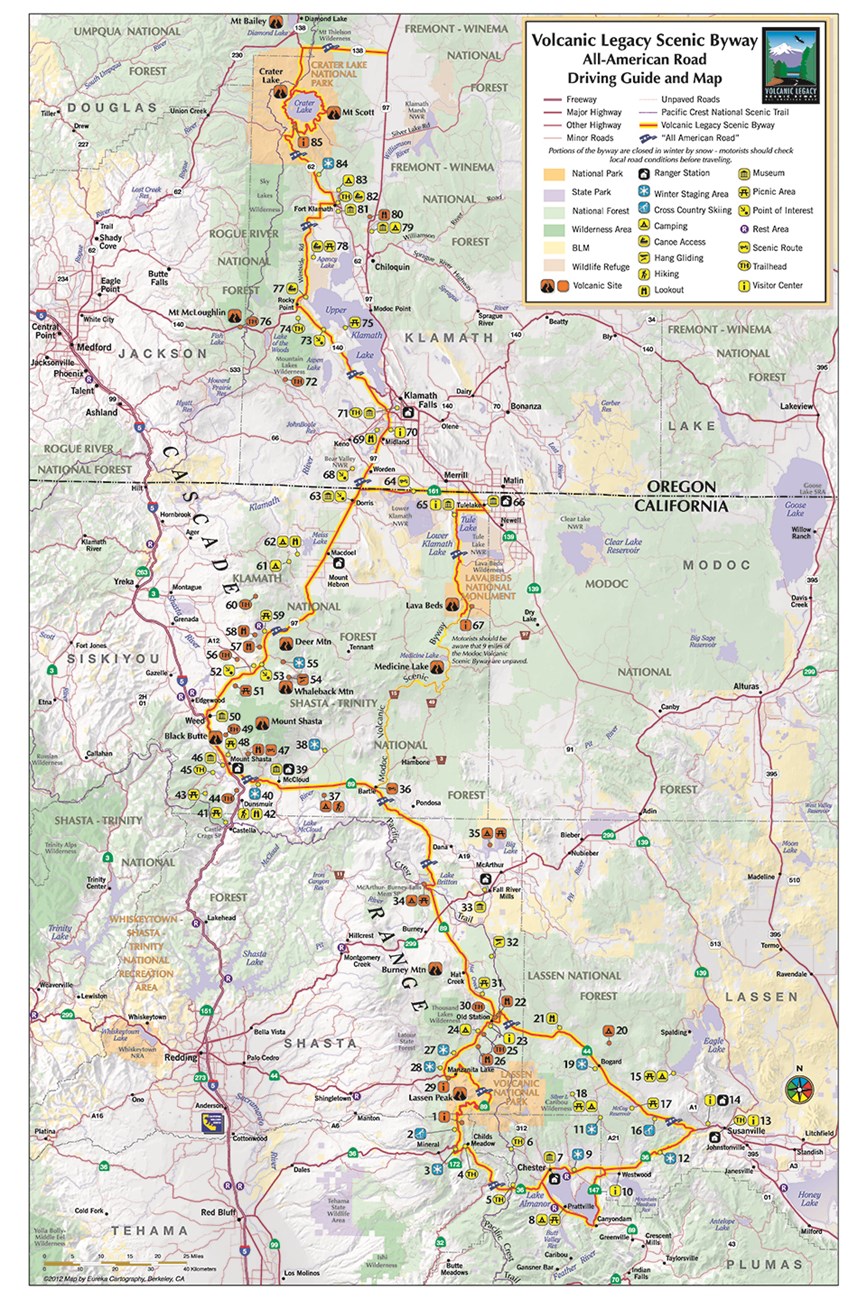 Section 3 - Highway 36: Chester to Susanville
36 miles one-way. Chester and Susanville bookend this portion of the Byway.
9. Chester Lake Almanor Snowmobile Area
This winter use area offers 62 miles of groomed trails for snowmobilers and cross-country skiers.
10. Westwood
A. Lassen County Visitors' Center in Westwood: Located in a replica of the historic Westwood Railroad Depot, it provides visitor information about the Westwood area and Lassen County.
B. Westwood Museum: this museum depicts the historic town of Westwood, the Fernley and Lassen Branch Railroad, and the Red River Lumber Company mill, once the largest pine lumber mill in the world.
11. Swain Mountain Snowmobile Park
Considered the hub of the Lassen National Forest trail system, you will find 60 miles of groomed snowmobile and cross-country ski trails that tie into other trail systems.
12. Fredonyer Winter Staging Area
A great launching spot for snowshoeing, cross-country skiing and snowmobiling with 80 miles of groomed trails that offer views of the Great Basin and the high country around Lassen Peak.
13. Susanville
Formerly called Rooptown, Susanville (adopted in 1857) was named after Susan Roop, daughter of Isaac Roop, an early settler.
A. Susanville Depot Visitor Center and Bizz Johnson Trail: While the depot displays vintage photos of railroad and logging history, the trail follows the old Fernley and Lassen Branch Line of the Southern Railroad and winds 25.4 miles from SusanviIle to Mason Station along the Susan River.
B. Lassen Historical Museum and Roop's Fort: View arrowhead collections, Native American art, and many representations of day-to-day life beginning in the 1850s.
C. Susan River Recreation Trail: This 1.5-mile hiking and biking trail provides access for fishing and nature study.
D. Susanville Skyline Drive Recreation Trail: This 3-mile paved hiking and biking trail offers views of the Great Basin.
E. Susanville Ranch Park & Trails: 26 miles of scenic non-motorized trails in a 1,100-acre park.
F. Peter Lassen Memorial Marker and Grave Site: Renowned pioneer originally from Denmark, Peter Lassen established the Lassen Cutoff of the California Trail and was buried here.