USPP Officers Rescue Man Who Jumped Into NY Harbor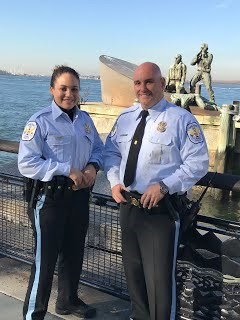 Officers from the
United States Park Police
serve and protect the national parks in New York, the District of Columbia, and San Francisco. On any given day they respond to numerous calls from visitors and residents in these communities. This fall, officers responded to screams for help coming from the area along the seawall in Battery Park in lower Manhattan. The officers were alerted to a man who had fallen into New York Harbor.
Officers Valentin and Fernandez were on duty at the nearby security screening facility used to screen visitors going to the Statue of Liberty National Monument and Ellis Island. "A construction worker approached me and said that a man was in the water and couldn't get out," Fernandez said. "My partner and I located the man after having to search for him for a couple of minutes, and I grabbed the nearest thing I could find to help him out of the water." It turns out that the nearest thing was an electrical extension cord. The quick-thinking Fernandez climbed down the seawall and stood on the ledge to wrap wrapped the extension cord around the man's torso. All the while hanging onto the seawall with one hand to keep from falling in himself. "Thankfully there was a group of constructions workers nearby that help my partner and I, pull the man out of the water to safety."
Ironically, the rescue took place within sight of the Merchant Mariners' Memorial dedicated to the thousands of merchant mariners who have died at sea. The sculpture sits atop the seawall and depicts a man in the water reaching up to his fellow sailors in an attempt to be pulled from the water.
Last updated: January 10, 2018