Teaching with Historic Places publishes new lightning lesson about Colonel Charles Young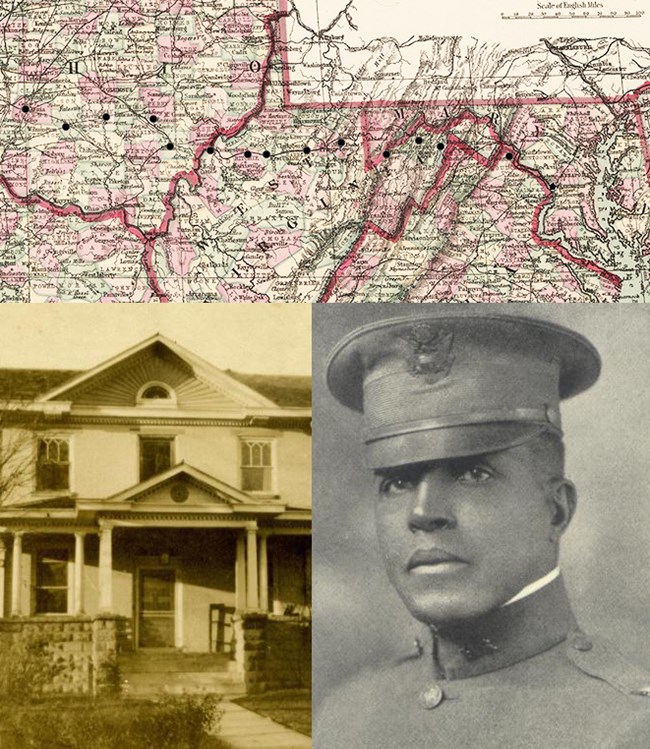 Wilberforce to Washington -- or bust!
(March 31, 2017)
Ride along on horseback with Colonel Charles Young 497 miles from Ohio to DC, with
this new lesson plan
from the National Park Service's Cultural Resources Office of Interpretation and Education. Colonel Young made this "ride for respect" in 1918 to challenge racial segregation in the Army during World War I.
The
Teaching with Historic Places
lightning lesson plan offers materials and investigative tools for students to study Colonel Young's life, his protest ride, and the histories of minorities serving in the military. The lesson grounds this drama and Young's biography in a real historic site where he began his ride: Youngsholm, where African American cavalry officer Colonel Young lived with his wife, their two children, and -- of course -- his beloved horses.
The free resource about Colonel Young provides a map, primary and secondary source readings, and a historic photo of Youngsholm. The materials all come with provocative question sets to bring out the inner historian in young learners. One reading is a letter from Young to the Secretary of War, defending his ability to lead troops in Europe after the Army denied him that role. Over the course of the lesson, students can explore the reasons people volunteer for the military, the barriers African Americans faced in the service, and Colonel Young's exceptional life.
The lesson, Discover Colonel Young's Protest Ride for Equality and Country: A Lightning Lesson from Teaching with Historic Places, featuring the historic Colonel Charles Young House, was written by retired, award-winning history teacher Paul LaRue and Sarah Nestor, both from Ohio. It was edited by Teaching with Historic Places staff at NPS Cultural Resources Office of Interpretation and Education. The Charles Young House lesson is the 164th Teaching with Historic Places online lesson plan and the second of the Lightning Lesson series, launched for the 2016 Centennial. The classic form series of TwHP lessons can be cut down by teachers to fit their needs, but the new series aims to provide facilitators with lessons developed with tight time limitations in mind. This National Park Service series uses places listed in the National Register of Historic Places to enrich traditional classroom instruction and other educational programming in history, social studies, civics, and other subjects.
Contact: Katie Orr, katherine_orr@nps.gov, 202-354-2238
Last updated: March 31, 2017